Pickings In The Oil Patch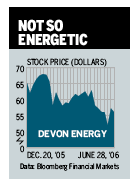 Devon Energy (DVN ) (DVN) could well get snapped up soon, as takeovers spread in the oil patch. Logical buyers for the top independent U.S. oil-and-gas producer might be Exxon Mobil (XOM ), BP (BP ), or Chevron (CVX ), says Fadel Gheit, oil guru at Oppenheimer (OPY ). He rates Devon a "buy" on fundamentals as well as its appeal as a target. Devon itself has been busy purchasing companies such as Ocean Energy and Chief Holdings. That just adds to its allure by increasing its growth potential, assets, and valuation, says Gheit. Devon could be worth $40 billion, or 90 a share, vs. its price of 56.27 on June 28, he figures. Gheit notes that rival Kerr-McGee (KMG ) was also acquisitive before Anadarko Petroleum (APC ) bought it in an all-cash deal on June 23. Arnold Schmeidler of investment adviser A.R. Schmeidler, which owns shares, also sees a buyout. The terms of the Kerr-McGee deal, he says, make Devon significantly undervalued. And its current cash flow of $6 billion, or $15 a share, makes Devon very attractive, as do its reserves of 2 billion barrels of oil equivalents, which Gheit values at $15.50 per barrel. The reserves, 58% in gas and 42% in oil, lie mostly in Texas, New Mexico, and Gulf of Mexico. Devon also operates in Egypt, China, Azerbaijan, Brazil, and Canada. "Devon is the cheapest in its group," says Gheit. It trades at eight times his 2006 earnings estimate of $6.54 a share, vs. nine for rivals. For 2007, he expects $8.61.
Note: Unless otherwise noted, neither the sources cited in Inside Wall Street nor their firms hold positions in the stocks under discussion. Similarly, they have no investment banking or other financial relationships with them.
By Gene G. Marcial
Before it's here, it's on the Bloomberg Terminal.
LEARN MORE