Amid all the ups and downs in the housing data of late, how you feel about the direction of this year's most closely watched economic sector may well depend on which day of the week you check the news. For example, on June 19, builders' sentiment sank to an 11-year low, but the next day the government reported that May housing starts jumped. A week later, numbers showed a rise in May sales of new homes, the third monthly gain in a row, followed the next day by data for May showing a second consecutive drop in sales of existing homes. What's the real story, and where is housing headed in the second half?
Looking past all the recent month-to-month noise in the numbers, it's clear that demand for both new and existing homes is down from last year's peaks, and that the growth rate of prices continues to slow. However, the drop in sales is not as steep as the data had suggested earlier in the year. Sales are declining in an orderly fashion, not collapsing, and that pattern will most likely continue for the rest of the year.
As for prices, the steepest slowdown has been for new single-family homes and existing condominiums and co-ops, areas where speculative activity has been the greatest. The cool-down in prices of existing homes, of top importance to the vast majority of homeowners, has been more gradual. The softening in prices has been more pronounced in recent months, however, and further slowing in the second half is almost certain in a market loaded with unsold homes.
There's also a new variable in the mix: The Federal Reserve's apparent intent to push interest rates even higher than most analysts had expected earlier this year. More than anything, housing turns on mortgage rates. Their pattern has accounted for about 75% of the monthly variation in sales of existing homes over the past decade. Rates on both fixed- and adjustable-rate mortgages are sure to climb much higher in coming months, adding a new risk to the housing outlook for later this year.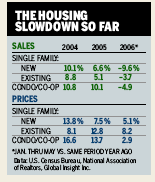 LET'S EXAMINE THE NEW-HOME MARKET, which is crucial to the direct impact of the housing slowdown on the economy, since less construction activity and consumer spending on home-related items weigh on growth. Based on data through May, home construction in the second quarter will subtract from overall growth for the first time since the 2001 recession. If current trends play out, that will be the case for the rest of the year, too.
Sales of new single-family homes had fallen off sharply in January and February. Somewhat surprisingly, they recovered much of that loss, with sales rising 4.6% in May, after reported gains in March and April. However, these numbers are highly volatile from month to month, and should be taken with a grain of salt. Government statisticians can say with 90% confidence that May's change from April was between -8.5% and 17.7%, so there is no assurance that May sales didn't actually decline. What's important is that, so far this year, the average of new home sales is down 10.9% from the average during the second half of last year.
Even that number might understate the weakness. Several builders are reporting higher-than-usual cancellations of orders for this time of year, so some of the sales reported by the government may not have been completed.
These are key reasons not to put too much stock in May's 5% rise in housing starts. Builders surveyed in June by the National Association of Home Builders described both current sales and buyer traffic through model homes as the worst in 11 years. Moreover, that 10.9% falloff in sales this year is much faster than the 3.3% decline in starts over the same period. The gap suggests a growing backlog of inventories that will lead to further declines in starts in coming months, as builders work through unsold homes.
INDEED, INVENTORIES of new homes in May were up nearly 24% from a year ago. Through May, the "months supply" of unsold homes -- the time required to sell the inventory at the current sales rate -- has averaged 5.8 months this year. That reading is the highest for any five-month stretch in almost 10 years.
The inventory buildup is the key factor weighing on new home prices, along with builders' revenues and profits. Median prices over the first five months of the year are up 5.1% from the same period last year, vs. a 7.5% gain for all of 2005, but price gains have slowed to a crawl in recent months. Builders are offering to help prospective buyers with closing costs and dangling other incentives to move their growing inventories.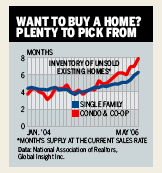 THE HEALTH OF THE MARKET for existing homes is central to housing's indirect effects on economic growth, namely through the impact of home prices on household wealth and the cash homeowners can withdraw from the equity in their homes. So far, so good. This segment has held up better than the new-home market, in terms of both sales and prices. Still, sales have declined in seven of the past nine months, including dips of 2.2% in April and 1.2% in May. Through May, sales of single-family existing homes were down 4% from the average in the second half of last year, while condo and co-op purchases were off 6.7%.
One reason prices of existing homes are holding up better than those of new homes could be that builders are more flexible than homeowners in accepting lower prices. Homeowners are more willing to let their unsold homes sit on the market. Median prices for single-family existing homes are up 8.2% from the same period last year, down from the 12.8% gain for all of 2005.
However, prices are sure to soften further. The main reason: Inventories of existing homes for sale are soaring. By May, they had risen to 3.6 million, up more than a million from a year ago. The months' supply has jumped to 6.5 from 4.3 in May, 2005. The condo and co-op market is especially glutted. While the number of unsold single-family homes has risen 36% from a year ago, the stock of condos and co-ops is up 73%.
Higher mortgage rates will also crimp demand and prices. The average rate on a 30-year fixed mortgage was 6.7% in late June, up from 5.5% a year ago. However, if the Fed pushes its target rate into the 5.5% to 6% range, as many analysts expect, fixed-mortgage rates could move close to 7.5%. Given that mortgage applications have stopped declining in recent weeks, the prospect of higher rates might well be adding some support under demand this spring, as buyers race to lock in current rates.
For now, at least, consumers appear to be taking the housing slowdown -- and everything else from high gas prices to stock market volatility to rising interest rates -- in stride. The Conference Board's index of consumer confidence rose one point in June, to 105.7, holding close to its average for the first half of the year. Buoyant confidence, a solid economy, and firm labor markets are the key reasons that continued softening in housing may dampen, but not severely depress, consumers' overall contribution to economic growth this year.
By James C. Cooper
Before it's here, it's on the Bloomberg Terminal.
LEARN MORE