Currencies: A Hawkish Fed And A Rising Dollar
The U.S. dollar is bouncing back, thanks in large part to the Federal Reserve. The central bank's increasingly hawkish tone has shifted perceptions within the financial markets, which now expect interest rates to keep climbing. And if the Fed follows through, the dollar could pull off another surprising rally, though it probably won't last.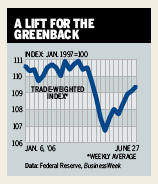 Since the May 10 monetary policy meeting, the Fed's broad trade-weighted index has risen about 3%. The greenback's slide earlier in the year resulted mainly from expectations that the central bank was about to wrap up its two-year-long string of rate hikes while others, such as the European Central Bank and the Bank of Japan, would keep pushing official rates higher.
But Chairman Ben Bernanke and other Fed officials are now sounding the inflation alarms. December federal funds futures contracts show that some investors see rates hitting 5.75% before yearend. And a growing number of economists believe the Fed may not stop until 6%, which would widen the spread between U.S. and most foreign rates.
If U.S. rates rise faster than those in the euro zone and Japan, the dollar is likely to keep ticking higher. That would relieve some inflation pressures in the U.S. A stronger dollar would help keep a lid on import prices, which have accelerated. In May, non-energy import prices jumped 0.7% and second-quarter prices are on track to grow by the fastest clip since the first quarter of 2005.
Higher rates and a stronger dollar would also stimulate a renewed deterioration in the current account and trade deficits. Indeed, despite an appreciating Chinese yuan, the trade-weighted dollar index for other important trading partners -- a group of 19 countries including Mexico, South Korea, and India -- is back to where it was at the start of the year.
Longer term, however, mounting deficits will exert downward pressure on the dollar. The real concern is that the Fed, in its attempt to keep a lid on inflation, will end up tightening too much. That could result in rate cuts next year in response to much slower economic growth, which could precipitate a less than orderly decline in the dollar.
By James Mehring in New York
Before it's here, it's on the Bloomberg Terminal.
LEARN MORE