At the Tech-Business Interface
This year, Kevin Werbach's Supernova conference spotlighted businesses whose technologies connect people in an increasingly decentralized world
Kevin Werbach is a Wharton School professor, former policy expert for the Federal Communications Commission, and founder of Supernova Group, a tech consulting firm. Since 2002, Werbach has also been the host of an annual conference, also called Supernova, that examines how emerging technologies are having an impact on the business world. As part of this year's program, which took place June 21-23 in San Francisco, Werbach showcased a group of 12 startups he identified as "connected innovators"—companies developing groundbreaking technologies that facilitate connections in our increasingly distributed world.
Chosen in partnership with Michael Arrington of the TechCrunch.com blog, these companies have the potential to create new markets. The lucky startups gave presentations at the conference that were also video-streamed into a special lounge in Linden Lab's 3D virtual world, Second Life. BusinessWeek correspondent Aili McConnon, who sat in on the virtual conference, recently interviewed Kevin Werbach about the intersection of emerging technology and business, the potential of online worlds like Second Life, and why people are saying that "gaming is the new golf."
You held the first Supernova conference in 2002—not a great year for the tech world? What was your thinking?
Well, it was the pit of the dot-com crash and everyone was saying "It's over." While clearly the irrational exuberance of the bubble was over, I saw lots of innovation happening. In fact, it was a great time to innovate because costs and expectations were lower. Initially, I planned to do three conferences: one on decentralized software, one on decentralized telecommunications, and one on decentralized media and blogs. Then I realized they were all the same topic.
What were some of most exciting themes at this year's conference?
There was a lot of discussion about network neutrality and how open the infrastructure will be going forward. People were very concerned that networks operators will engage in practices that constrain innovation.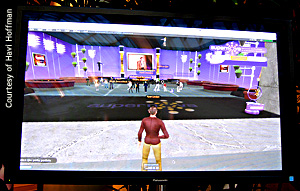 Photo: Courtesy of Havi Hoffman
What could be done to prevent or deter that?
I'm skeptical that any type of formal congressional pronouncement on network neutrality will have an effect. From my experience with the FCC, when network and cable companies didn't want to open up their networks, they found all sorts of ways to avoid doing so. But if an AT&T (T) or Verizon (VZ) or Comcast (CMCSA) has a sense that customers and Wall Street will punish them for closing off their networks, then they'll think twice.
How did you select the Connected Innovators?
First, there's a difference between an exciting business opportunity or space and an exciting company. You can have a really cool company in a really dull space, and you can have a whole lot of boring companies in a very interesting space. We were looking for some combination of both. We wanted truly exciting innovative companies. There are dozens and dozens of "me too" social networking companies out there and we didn't pick any of them. Not because we don't think it's an interesting trend; there was no one that was doing something really new.
From the companies that we picked, what's striking is how diverse they are. We've got everything from Ether, a company that facilitates e-commerce through the telephone, to Zixxo, a company that brings together online and offline coupons, to SoonR and Sharpcast, two companies that facilitate mobile access and access on multiple devices to different kinds of information. When I look at the companies now, there are a certain trends and themes that come out, but that wasn't by design.
What are some of those themes?
Several had to do with mobile and distributed access to information across multiple devices. A number have to do with new paradigms for organizing information. Others have to do with bringing the online world and offline world together. Those are just a few cross-cutting themes.
The goal of Supernova is to build a bridge between these emerging technologies and the business world?
I find it ironic that I am huge advocate for a digital online world and yet here I am organizing an event that involves several hundred people getting in cars and planes flying somewhere to be in a room together. But connections happen at conferences like Supernova. There have been a number of significant companies founded after people met and started talking at previous conferences. Six Apart, the company that makes Moveable Type blog software, for instance, met their seed investors here.
So given the importance of physical interactions, why did you decide to stream into Second Life?
I always think of Supernova as two events. There's a physical event in a conference room in San Francisco, and there's a distributed virtual event. From the very first Supernova, we set up online tools—Web logs, IM chats, wikis, and other mechanisms for people to interact and communicate before and after the conference—and every year we add new things. We have had a long-standing interest in massive multiplayer online role-playing games (MMORPGs) and, with the Connected Innovators program, we wanted to experiment with the idea of a virtual showcase. Virtual worlds like Second Life are an extraordinary playground; they give you tremendous freedom to experiment, which is why they are so exciting.
Speaking of Internet technologies changing the way the business world works—Supernova's theme—how do you see MMORPGs impacting business?
Virtual worlds are extraordinarily significant and we're just at the very beginning of their development. Most of what happens in Second Life today is coming up with things, making friends, and chatting, which is a fine thing. But on the other hand, one consultant at Supernova working on a Defense Dept. contract is studying MMORPGs for potential use by the military—not so much in combat simulation, but in terms of educating and training the workforce. We also have someone looking at using MMORPGs in collaborative simulation. We have a number of interesting people doing things in games that are business-relevant.
I've heard some people say that video games are the new golf?
They are models for the next generation of distributed collaboration. We're getting more and more networked, we're getting more channels of communication, mobile phones, and Web- and instant-messaging, and we need new ways to bring these together in a social environment. There are times where we want to be productive and there are times we want to be social. What we're seeing in these virtual labs are emerging collaborative structures built into the games, new ways to interact and collaborate. Today that's a bunch of twentysomethings trying to kill a dragon. Tomorrow that's going to be a project team at a pharmaceutical company or a social organization of people interacting in different ways.
Before it's here, it's on the Bloomberg Terminal.
LEARN MORE