It's Freedom Tower, New and Improved!
Architect David Childs unveils the latest drawings of the new World Trade Center
David Sokol
The yearlong design development of the World Trade Center Freedom Tower concludes Friday. To mark the occasion, on Wednesday David Childs, FAIA, of Skidmore, Owings & Merrill, presented several final drawings and maquettes to an audience of 700 architects, engineers, and clients at the AIA New York Chapter's 2006 Design Awards.
"The building is remarkably the same as the one I unveiled a year ago," Childs said, but he stressed three significant design refinements since then. The building's antenna, for example, will be constructed as a closed form; Childs and collaborator Kenneth Snelson originally proposed an open latticework. This final iteration features a lozenge shape that tapers to a point, and the web-like frame is slightly visible underneath it. Childs said the iconographic element will still have the quality of lightness, and suggested that it would be programmed with light displays and other dynamic features.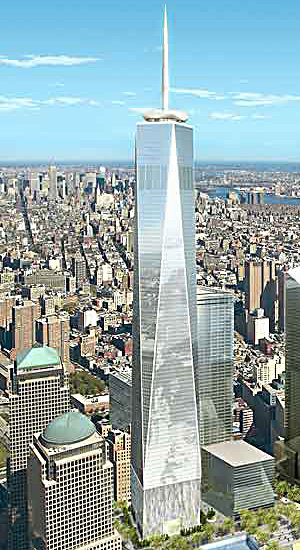 Photo: courtesy Silverstein Properties, Inc., and Skidmore, Owings & Merrill LLP
In addition, the glazing surrounding the building's 69 office floors will eliminate spandrels. Each glass component will stretch to the floor's full, 13-foot, 4-inch height. This characteristic offers "a unique character of monumentality," Childs said. "It also provides a marker in the sky of the most important place, the memorial itself."
In introducing changes made to the base of the Freedom Tower, Childs confided that he "wasn't sure" of the architecture's ultimate evolution. Safety concerns forced the design team to wrap the bottom 186-foot-tall portion in a wall of concrete that is almost uniformly three feet thick.  "The concrete could have looked like a barracks," he said. The solution: 2,000 sheets of prismatic, laminated safety glass will clad the concrete. The 4-by13-foot panels features prisms of different depths; the variety is meant to animate the skin with a variety of shadows and colors that move according to weather conditions, or with the changing perspective of the viewer. "Most consistent with the building would be to build the space out of glass," Childs noted. "This is a friendly, warm plinth to the shaft above it."

Photo: courtesy Silverstein Properties, Inc., and Skidmore, Owings & Merrill LLP
The multifaceted skin will fold and morph into seating at the plaza level. Childs, who envisioned "confusion about whether the building is growing out of the ground," is working with Peter Walker, who is also the memorial's landscape architect, on this aspect of the project.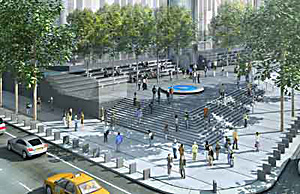 Photo: courtesy Silverstein Properties, Inc., and Skidmore, Owings & Merrill LLP
World Trade Center developer Larry Silverstein introduced Childs at the event. He promised listeners that the Freedom Tower—for which below-grade excavations, footings, and foundations were begun in April—would be ready for occupancy by 2011, and the entire site completed the following year.