At first glance, the unexpected decline in May's industrial output could be seen as evidence that softer economic growth has filtered down to the manufacturing sector. But factories still have a lot of unfilled orders to work through, and new demand should keep coming at a good clip.
Economists expected a modest rise in industrial output for May. Instead, the Federal Reserve reported that production eased 0.1%. The dip follows earlier news that factory payrolls fell in May and that new orders in April also retreated. What's more, the decline in industrial output was broad and not isolated to autos or home-related categories, such as appliances or furniture.
Yet there are plenty of other signs that indicate the recent patch of weaker factory data will prove to be temporary. So far in the second quarter, factory output is up 5.4% from the previous year, but unfilled orders have zoomed up nearly 20%. With the backlog of orders growing strongly, manufacturers will likely need to bump up production.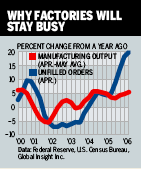 Investment spending should remain strong even if consumers become more frugal in response to high gas prices and a cooling housing market. Capacity utilization in mining and several durable goods industries, such as communications equipment, plastics, computers, and primary metals, were running quite high. And the Federal Reserve's Beige Book report on June 14 said that semiconductor manufacturers in the San Francisco Federal Reserve Bank's region are using 90% or more of their capacity. At such levels, more capital spending in those industries is likely.
Overall, the growth in output is set to outpace capacity gains for an eleventh consecutive quarter and is on track to widen for a third straight period. So far, second-quarter industrial capacity has grown just 2.4% from the year before.
The latest June regional factory activity reports from the Federal Reserve Banks of New York and Philadelphia show that demand in June probably accelerated. The new orders indexes from both surveys rebounded to levels comfortably above the long-term averages.
By James Mehring in New York
Before it's here, it's on the Bloomberg Terminal.
LEARN MORE