Lowe's Is Not Riding High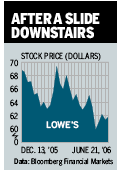 Lowe's (LOW ) has always been No. 2 to Home Depot, but it is tops on Wall Street. "Lowe's is Home Depot with good management and without the controversy" (such as the one sparked by Depot CEO Robert Nardelli's $37.9 million 2005 pay packet), says Gabelli Asset Management's Larry Haverty. Ivan Fenseth of Matrix, who rates Lowe's a "strong buy," notes it has stolen market share from Home Depot. He says some customers drive past Home Depot to shop at Lowe's. Like other housing-related stocks, it has been hammered lately, down from 69 in December to 61.81 on June 21. But the drop is "a buying opportunity," says Armando Lopez of Morgan Stanley (MS ), who rates Lowe's "overweight." Lowe's isn't saddled with corporate governance issues, which have turned some investors off Home Depot. What's more it has solid fundamentals, says David Clark of Piedmont Select Value Fund (PSVFX ), which owns shares. Based on its return on equity (ROE), valuation, and earnings growth, Lowe's is a "compelling long-term buy," he says. That's because ROE, which averaged 16% a year over the past decade, has edged up to 18%. And he sees earnings rising to 19% in 2006, up from an average of 15% over the past 10 years. Clark expects Lowe's to hit 100 in a year. Another bull, Donald Trott of Jefferies, sees earnings of $4.88 a share in fiscal 2007 ending Jan. 30 vs. 2006's $4.21.
Note: Unless otherwise noted, neither the sources cited in Inside Wall Street nor their firms hold positions in the stocks under discussion. Similarly, they have no investment banking or other financial relationships with them.
By Gene G. Marcial
Before it's here, it's on the Bloomberg Terminal.
LEARN MORE