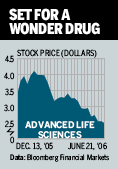 Why are George Soros, Morgan Stanley, and T. Rowe Price (TROW ) all putting money into tiny Advanced Life Sciences (ADLS )? One reason: Advanced has licensed an oral antibiotic called Cethromycin from Abbott Labs (ABT ). Designed for respiratory infections, especially so-called community acquired pneumonia, it's a "best-in-class antibiotic [for] the $14 billion worldwide outpatient market," says Matthew Osborne of Lazard Capital Markets, which has done banking for Advanced. He rates the stock, now at 2.40, a "buy," with a 12-month target of 5. Phase 3 trials of Cethromycin, now under way among 1,000 patients in the U.S., Latin America, and Africa, are to be completed by yearend. Advanced plans to file a new drug application in 2007's first quarter. Cethromycin shows higher potency than Sanofi-Aventis' (SNY ) Ketek, the first ketolide antibiotic, says Osborne. Advanced intends to team up with a major drugmaker for a launch in 2008. Andrew McDonald of ThinkEquity Partners, which has done banking for Advanced, also rates it a "buy." He sees it in the black in 2009, with earnings of 3 cents a share on sales of $78 million and of 50 cents in 2009 on $121 million. In 2005, it lost $6.4 million, or 49 cents a share.
Note: Unless otherwise noted, neither the sources cited in Inside Wall Street nor their firms hold positions in the stocks under discussion. Similarly, they have no investment banking or other financial relationships with them.
By Gene G. Marcial
Before it's here, it's on the Bloomberg Terminal.
LEARN MORE