U.S.: Why The Slowdown Won't Become A Slump
Household finances are strong and should continue to shore up demand
Judging by the stock market's swoon in recent weeks, investors are clearly worried about the economic outlook, especially for consumer spending. The way they see it, the economy is slowing, inflation is rising, and more interest-rate hikes by the Federal Reserve threaten to stop growth cold. The concern is understandable, given that many economic expansions have ended exactly that way. But stockholders are overlooking a big reason why such a scenario isn't likely to play out anytime soon.
Take a look at the Federal Reserve's latest data on the balance sheets of households and corporations. Over the past year household net worth, which is the net of all assets minus liabilities, increased by $4.9 trillion, to a record $53.8 trillion. The boost reflected more than just higher home prices, with gains in financial assets -- from bank deposits to stocks and bonds -- contributing the lion's share. Those increases are partly why household spending has been so resilient over the past year in the face of surging gasoline prices and rising interest rates.
Corporate balance sheets are equally impressive. The net worth of nonfinancial corporations is up $1.3 trillion from a year ago, to a record $12.6 trillion. Almost all of that rise came on the asset side of the ledger, and the ratio of liquid assets to liabilities is historically high, while the ratio of debt to net worth is the lowest in two decades. Most strikingly, the sector's $170 billion rise in cash flow was more than double the increase in capital spending. In short, businesses have unprecedented ability to finance their operations and their growth.
These numbers underscore the extent to which households and corporations are shoring up demand. Clearly, costlier energy and the stock sell-off are hitting consumers hard in the second quarter, and companies have become a little more cautious. The sluggish-looking May data on retail sales, industrial production, and job growth justify that wariness. However, as of June 14 broad stock indexes are still above their year-ago levels, and the generally strong financial condition of consumers and businesses will help to assure that the economic slowdown doesn't turn into a protracted slump.
RIGHT NOW CONSUMERS are the bigger worry in the outlook compared with the cash-rich corporate sector. That's especially true, given the recent bad news on inflation. The May core consumer price index, which excludes energy and food, rose 0.3% from April, the third unexpectedly large increase in the past three months. That rise suggests the Fed will push its target interest rate above the current 5% level at its meeting on June 28-29.
However, consumers' prospects are probably brighter than investors are giving them credit for. Solid household balance sheets, in combination with tight labor markets and healthier wage growth, will keep consumer spending moving up at a healthy clip in the second half. In the first quarter household net worth rose at an 11.1% annual rate from the fourth quarter. That was the largest quarterly gain in more than a year, to a level that was 5.8 times greater than households' aftertax income. That ratio was the highest in 5 1/2 years.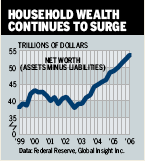 The notion that household net worth is inflated only by a housing bubble isn't borne out by the data. In fact, wealth gains have been well balanced between financial assets and household real estate. Over the past year the value of financial assets is up $3.2 trillion, while home equity -- real estate values minus mortgages -- has increased by $1.5 trillion. Over the past three years the rise in financial assets has been nearly three times greater than the gain in home equity.
THE REBOUND IN STOCK PRICES after the bust in 2000 is a big part of the household wealth story, but maybe not the most important part. Households have seen their stock-related wealth grow by some $5 trillion over the past three years, mainly reflecting gains in mutual funds and pension funds.
What's gone largely unnoticed, though, is the high degree of liquidity among households. In the first quarter, households held $6.3 trillion in various readily accessible deposits, including checking and savings accounts and money-market funds. For comparison, that cache of funds is equivalent to 67% of consumers' aftertax income, the highest percentage in more than 13 years.
Those deposits, along with the other components of net worth, paint a very different picture of the financial health of households than does the government's official measure of the personal savings rate. At -1.6% in April, that gauge is in negative territory, implying that consumers are outspending their aftertax incomes.
But consumers are also spending part of their increased wealth. Economists generally agree that about 4 cents of every additional dollar of wealth gets spent. For example, 4% of the $4.9 trillion rise in wealth over the past year is equivalent to about a third of the increase in consumer spending over the same period. Studies also show that wealth gains affect spending growth with a lag. That is, increases in net worth over the past year will continue to support spending in the coming year.
What about the argument that consumers are vulnerable because they are up to their eyeballs in debt? Well, the data show that household liabilities in the first quarter, led by a record share of mortgage debt, were 1.3 times greater than aftertax income, an all-time high. The numbers also show that household assets were 7.1 times greater than aftertax earnings, also a record. Households are carrying a lot of debt because they can afford to do it.
FROM NOW ON, INCREASES in household wealth are bound to slow, mainly reflecting a continued cooling in home price appreciation. So far the slowdown in housing prices has been gradual, but it probably has much further to run. Home inventories continue to rise, and the markets for condominiums and co-ops keep weakening. However, for household net worth to decline enough to seriously damage consumer spending and the economy, both home values and stock prices would have to collapse.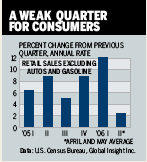 Barring such a debacle, even if home values don't rise at all, likely gains in financial assets will allow household wealth to keep expanding, if at a slower pace than in recent years. Also, home equity stood at $11.4 trillion in the first quarter, nearly double the level at the end of 1999. That means many homeowners are holding large untapped capital gains.
Currently consumers are struggling with $3-per-gallon gasoline. Retail sales in May edged only 0.1% above April. The broader message from sales is that weak consumer spending is going to be a big drag on overall economic growth this quarter. But expect consumers to look a little livelier in the second half. Gas prices have topped out, and households will not likely suffer the sudden loss of purchasing power that hit second-quarter spending.
Of course, tropical storm Alberto is a reminder that anything can happen during hurricane season. But even after last year's storms, households proved their resilience with a strong rebound in the first quarter, thanks in large part to their rock-solid balance sheets.
By James C. Cooper
Before it's here, it's on the Bloomberg Terminal.
LEARN MORE