Small Business: Upstarts Plan To Keep On Spending
Small companies may be divided about prospects for the U.S. economy. But on balance, business fundamentals still appear to be favorable. That's a reassuring sign for capital spending and hiring by small companies, even if growth cools.
A PricewaterhouseCoopers first-quarter survey, which ran from late February to May, showed 76% of the fast-growing small businesses -- averaging an annual growth rate of about 25% -- said they were optimistic about the U.S. economy for the coming year.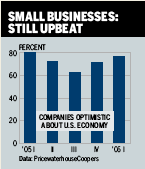 That upbeat view contrasts with the latest Small Business Optimism Index produced by the National Federation of Independent Business (NFIB). The May reading fell to 98.5, from 100.1 in April. But that lower number is not a big surprise. The index "is following its typical pattern during an expansion," says NFIB Chief Economist Bill Dunkelberg.
Both surveys reveal that small businesses are in good shape heading into the second half of 2006. Quickly growing companies still see revenues increasing over 22% in the next 12 months. More NFIB respondents said earnings and sales picked up in the latest three months vs. the prior three-month period, which included a record warm January. Sales expectations held firm with a May reading of 20, vs. 21 in April.
Favorable forecasts should fuel investment and hiring. The number of companies that plan to make capital investments in the coming year did fall five percentage points in both surveys. But among the 41% of fast-growing businesses that expect to invest, the average of planned outlays was a solid 13.5% of revenues.
The NFIB survey showed a slightly larger share of businesses cut payrolls than added workers in the past three months. Yet more companies than not still plan to hire. An historically large 25% also reported job openings due in part to an increased inability to find qualified workers, a point echoed by the PricewaterhouseCoopers survey. About half the respondents cited labor quality as a potential barrier to growth, beating out higher energy costs and demand concerns. It's likely a good sign that managers are still more concerned about their own needs than a slowing economy.
By James Mehring in New York
Before it's here, it's on the Bloomberg Terminal.
LEARN MORE