Why The Markets Are So Mercurial
Inflation is still a worry. But now traders fret that the Fed will push rates too far
There's plenty for investors to be nervous about these days. Threats from Iran about cutting off oil supplies and the onset of hurricane season could send energy prices up again. Corporate profits are slowing. The dollar is weakening. But never mind all that. What traders really fear is the Fed.
Most economists agree that the Federal Reserve is much less powerful now than it was a decade ago at the height of former Chairman Alan Greenspan's influence. There's some evidence to support that, most notably the Fed's inability in the last few years to push up the yields on long-term Treasury bonds, something it used to be able to do easily.
But don't think for a second that the Fed has lost its ability to affect global markets. On May 10 it raised the benchmark federal funds rate a quarter-point to 5%. Its policy statement contained the most direct language yet that inflation remains a concern and that the Fed might keep raising rates to quell it. Since that day, the Standard & Poor's 500-stock index, the Dow Jones Euro Stoxx 50 index, the MSCI emerging markets index, and many commodities markets have fallen sharply, with the worst wreckage overseas. At the same time, volatility measures have spiked.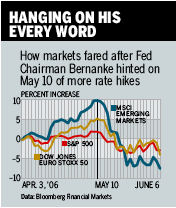 Why are traders so twitchy? History. When the Fed starts raising rates, it rarely knows when to stop. And it has been hiking since June, 2004, when the fed funds rate stood at just 1%. Analysts say investors have begun to worry less about the portfolio-ravaging effects of inflation than about the likelihood the Fed will raise rates high enough to spark a recession. "The reason volatility is picking up," says Dean Barr, head of liquid investments for Citigroup (C ) Alternative Investments, "is because the market fears the Fed will overshoot." Case in point: In a speech on June 5, Chairman Ben S. Bernanke vowed to "be vigilant" on inflation. The Dow Jones industrial average fell 199 points that day.
The fact that Bernanke has been on the job just a few months is only heightening the tension. Traders don't yet know how to read him, and stung by the reaction to an offhand remark to a TV reporter, he's careful not to dispense information beyond prepared remarks. And so the markets cling to the official pronouncements. The biggest: Bernanke has said that the Fed's course will be driven by economic data as they emerge. As a result, stocks have been rising and falling largely in unison based on the macroeconomic numbers of the day, with company fundamentals taking a backseat. "If all stocks are moving in the same direction, [they're] going to be more volatile," says Dean Curnutt, head of equity derivatives strategy at Banc of America Securities (BAC ) in New York. "Higher correlation means higher volatility, and that means more risk."
The key barometer of stock market volatility is the Chicago Board Options Exchange's Volatility Index, or VIX, which measures the fluctuations of options contracts based on the S&P 100-stock index. The index fell to the low double digits this year, bottoming on Mar. 14. Since then it has soared, jumping 31%, to almost 19, on May 30.
In the bond market, futures contracts on the federal funds rate have been highly unpredictable, pricing in a 35% chance of a rate hike one day and an 80% chance the next. And yields on 10-year Treasury bonds, the chief gauge of economic expectations, have fallen from 5.19% on May 11 to 5.02% by June 7. That means that traders are beginning to see weakness ahead.
The rate jitters could be intensified by hedge funds, those lightly regulated investment pools catering to the wealthiest investors. Some analysts praise the explosion of hedge funds in recent years for keeping markets active. But they're a wild card when markets turn sour, warned Timothy F. Geithner, president of the New York Fed, at a May credit risk conference. Roger W. Merritt, managing director at Fitch Ratings, worries that hedge funds exiting markets in unison could "end up exacerbating risks."
Indeed, synchronicity may be the markets' worst enemy in the coming months. Consider what happened in emerging markets. Citigroup's Barr figures around $27 billion moved into the markets of India and Brazil during the first five months of the year. Then, in the course of a few weeks beginning in May, some $5 billion came rushing out. "With that kind of velocity, the question is, where does it go next?" he says. As traders grow increasingly nervous about a slowdown in the U.S., hedge fund selling could beget more selling. "If a hedge fund has to sell securities to raise money, that causes prices to decline, which creates a downward spiral," says Fitch's Merritt.
The good news? At least we're coming closer to finding out whether Bernanke will engineer a much hoped-for economic soft landing or inadvertently help steer the economy into a downturn. But in the meantime, volatility will rule the day, as traders swing back and forth between worrying about inflation and recession. "The market can have both beliefs at the same time -- that there's rising inflation and a slowing economy," says Stan Jonas, managing partner of DutchBook Partners, a New York hedge fund that bets on interest rate moves by central banks around the world. "It's tough enough to know when one thing will happen; it's really tough to know when two things will happen. The real world knows [traders] don't have a clue."
By Mara Der Hovanesian, with Catherine Yang in Washington
— With assistance by Catherine Yang
Before it's here, it's on the Bloomberg Terminal.
LEARN MORE