U.S.: A Slowdown Investors Should Cheer, Not Fear
A cooler economy will take pressure off inflation and interest rates
Investors should always be careful what they wish for. This time they were hoping for a slowdown in the economy that would calm inflation fears and finally put an end to the Federal Reserve's two-year barrage of interest rate hikes. What they got is a new set of worries. Recent data, headlined by a surprisingly weak report on the May labor markets, show not only that the economy is cooling off but that growth is slowing sharply, at least in the second quarter. Fed Chairman Ben S. Bernanke's unexpectedly hawkish remarks on inflation in a June 5 speech only fueled those concerns.
What's a beleaguered investor to do? First of all, don't panic. Growth in the second quarter was due to slow anyway, after the first quarter's rapid 5.3% advance in real gross domestic product. That surge was exaggerated by the unusually warm winter and a rebound effect after last year's hurricanes, which generated a lot of consumer spending and housing activity that would not normally have occurred. Some of that business was effectively "borrowed" from the second quarter. This quarter's sudden weakness is unlikely to be repeated in the second half, given good prospects for steady, if more moderate, growth, along with the still upbeat expectations of top business executives.
Besides, a slowdown is just what Bernanke ordered. Although the markets gasped at his hawkish comments, the first half of his speech was about the economy's "transition" to slower growth -- a transition, he noted, that would likely be necessary to assure a sustainable, noninflationary expansion. And indeed, he said, "the anticipated moderation of economic growth seems now to be under way." Slower growth will provide strong anti-inflation medicine, although with a delayed reaction. So even if the Fed lifts rates again at its June 28-29 meeting, more hikes are unlikely.
ONE REASON INVESTORS are so skittish right now is that the surge in gasoline prices, coupled with the ongoing softening in housing, appears to have resulted in a much steeper slowdown than most analysts had expected. In particular, the 20% jump in gas prices from the first quarter to the second quarter required consumers to shell out an additional $60 billion at the pump for the same amount of gas. Measured at an annual rate, that translates into a 2.7% increase in consumer spending -- just on gas -- leaving a lot of money unavailable for other purchases.
In April consumer buying began the quarter on a weak note, and in May consumer confidence took a hit. Also in May, weekly surveys of store sales looked tepid and car sales stumbled badly. Consumer spending for the quarter is on a pace to grow only in the 1%-to-2% range, after the first quarter's robust 5.2% advance. Keep in mind that consumer outlays are two-thirds of real gross domestic product, meaning that a weak GDP report is already baked in the cake.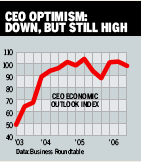 Not only that: The housing slowdown intensified this quarter. Demand indicators from mortgage applications to pending home sales have weakened considerably. Pending sales of existing homes, which foreshadow future sales numbers, fell in April by a a steep 3.7% from March. That was the largest monthly drop in more than 2 1/2 years, and it suggests that May sales, to be reported on June 27, declined sharply.
Also, a separate report showed a falloff in April outlays for residential construction, which is a direct input into the government's GDP. That decline may be signaling that housing subtracted from quarterly GDP growth for the first time since the 2001 recession.
TO SOME EXTENT, at least, these second-quarter patterns in consumer spending and housing had been expected. The weakness partly reflects the genuine cooldowns in those two sectors, but it also shows some temporary payback from the first quarter's overstated strength. That may well be part of the explanation for the surprising softness in May job growth.
Businesses added a scant 75,000 workers to their payrolls in May, and the Labor Dept. revised down its earlier estimates of March and April job gains by a total of 37,000, to 175,000 and 126,000, respectively. Except for a couple of periods of foul weather, that's the smallest three-month increase in about two years. The housing and consumer sectors were a big part of the weakness. In April and May, payrolls in construction and retail trade shrank by 28,000 and 26,000, respectively, the first back-to-back monthly drops in more than three years.
THE IMPORTANT QUESTION investors need to consider, though, is not what's happening in the the second quarter. It's where the economy is headed in the second half. On that front, the sharp slowdown in growth this quarter does not appear to be a precursor of a protracted period of economic malaise.
Despite the recent slowdown in job growth, labor markets remain tight, with the jobless rate at a low 4.6%. So far this year, monthly payroll gains have averaged 146,000 jobs. That pace is a bit slower than the 165,000 clip for all of last year, but if maintained, that rate is sufficient to keep the jobless rate from rising. It will also generate wage income fast enough to support a healthy, if less robust, pace of consumer spending.
Although manufacturing activity appears to be slowing, based on the dip in the May purchasing managers' index, strong global growth likely topping 4% this year will support exports and factory production. And business investment is set to continue growing rapidly amid high profitability and pressure on existing production capacity.
Importantly, business executives remain upbeat, despite the recent uncertainties over oil prices and interest rates. The 116 CEOs polled in the Business Roundtable's second-quarter CEO Economic Outlook Survey see continued strength over the next six months. Boardroom expectations for sales, capital spending, and hiring, summarized in the Roundtable's index, are each slightly below their readings of the first quarter, but they remain at comparatively high levels. The overall index dipped to 98.6 from 102.2 in the first quarter, but it remains in the 94-to-104 range it has been in for the past two years, when the economy grew 3.5% annually.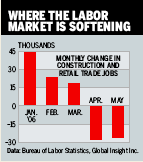 Finally, as Bernanke noted on June 5, credit conditions remain relatively easy. Even though investors are demanding greater compensation for the added risks they see, the spread between yields on corporate bonds and riskless Treasury securities remains narrow, a sign of favorable borrowing conditions in the credit markets. Also, last month's Fed survey of senior loan officers indicates that banks remain willing to lend.
Right now investors are running scared because it looks as if the economy is weakening even as inflation is picking up. That's a double whammy -- bad for both stocks and bonds. But looking further down the road, a more moderate pace of growth will mean that inflation pressure will abate and the Fed will move to the sidelines. And that would be a dream come true.
By James C. Cooper
Before it's here, it's on the Bloomberg Terminal.
LEARN MORE