Faster Pay Gains May Not Fuel Inflation
Average hourly pay has been growing at a steadily faster clip. Among some economy watchers, faster earnings growth is cause for concern when it comes to potential inflationary pressures. However, a deeper look reveals the growth in wages is fairly benign so far.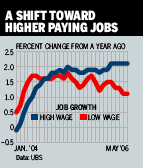 The May employment report showed a 0.1% rise in average hourly earnings of production and nonsupervisory workers. That left hourly pay up 3.7% from a year ago, just a notch below the five-year high of 3.8% posted in April. At the same time, labor markets continued to tighten as the unemployment rate edged down to its five-year low of 4.6%.
However, these trends do not necessarily imply that more hiring will put broad pressure on wages and prices. Average hourly earnings can also be affected by who is hiring. If job growth is focused in higher-paying industries, then the average wage will also rise.
That appears to be the case right now. Economists at the investment bank UBS (UBS ) split payrolls into above-and below-average-paying industries. It turns out that job growth over the past year in industries with above-average wage levels has been hanging around 2%, while job gains in below-average paying slots have been trending down, to the May rate of 1.1%.
The May job report showed another drop in low-paying retail trade jobs, while better-paying jobs in finance and professional business services, as well as natural resources, posted increases. These are also areas where wage growth is above average.
Therefore, the rise in average hourly wages is due largely to the shifting composition of the labor market. That's why the Labor Dept.'s employment cost index, which adjusts for these shifts, shows almost no wage acceleration. In addition, productivity growth in many of the high-wage industries is strong, according to UBS economist James O'Sullivan. That further reduces potential inflationary pressures.
A benefit from the faster pace of high-wage job growth: Bigger paychecks provide households with additional spending power, which could partially offset the negative effects of a slowing housing market and sticker shock at the gas pump.
By James Mehring in New York
Before it's here, it's on the Bloomberg Terminal.
LEARN MORE