Inspired by hikes through the flower-strewn jungles of Colombia, Christine Martindale started Esprit Miami in 1980. "I have entrepreneurs on both sides of my family, and I knew I could sell flowers," says Martindale. But Martindale's $21 million, 38-employee company is facing increased competition, rising fuel costs, and changing weather patterns that make it hard to coordinate production with periods of peak demand. Says Martindale: "We have to figure out how to keep everyone from our producers to our customers happy."
GOAL: To increase profit margins and drive growth
GAME PLAN: To help Martindale tackle her challenges, BusinessWeek SmallBiz turned to Aldonna R. Ambler, chief executive of Ambler Growth Strategy Consultants in Hammonton, N.J., and Albert J. Zdenek Jr., a CPA and chief executive of Zdenek Financial Planning in New York.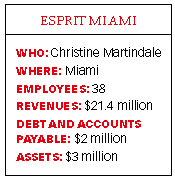 Martindale's first step should be to create a business plan for the next five years with benchmarks for growth and profitability, says Zdenek. Finding out average growth rates and margins for similar businesses in her industry will help her set realistic goals. "The key is targeting the bottom line," says Zdenek. Last year the company generated $735,000 in net profit before taxes, for a 3.4% profit margin. Zdenek suggests that she aim for a 5% margin.
Gross margins, too, could be boosted. In 2005, Esprit Miami's margins were 24%, but Martindale sees them declining to 20% in the near future. Ambler thinks she should aim for about 30%. She suggests Martindale look into buying groups -- businesses that make purchases together -- to cut costs. She might, Ambler says, buy gas for her trucks through one. Also, Martindale should make sure she's charging premium prices for premium products. That means resisting discounts and negotiating aggressively with vendors.
While the company has been doing well, one troubling trend has been that operating costs are rising at the same clip as sales. "Expenses really should lag sales," says Zdenek. One option: cutting $200,000, or about 5% of total costs, in compensation and benefits, insurance costs, and interest expenses.
Ambler argues that Martindale needs to decide whether to stay small -- and continue to see her margins squeezed -- or become a larger company. Right now, Esprit is too small to serve supermarkets, which are grabbing a larger share of the flower industry. "The business probably has to be about twice as large," says Ambler. Esprit has a credit line of $500,000. But to double the size of the company in the next three years, Zdenek estimates she would need $1.5 million to $2 million to cover new equipment and receivables. That funding -- or money to acquire another company, as Ambler suggests -- can come from her bank, or she could pursue venture capital investors or other strategic partners.
BENCHMARKS
All that means Esprit Miami needs a chief financial officer familiar with financing techniques. Once her financial plan is in place, Martindale should make her five-employee management team responsible for meeting benchmarks tied to their individual responsibilities as well as the company's overall financial goals. Martindale should also hire a president or chief operating officer to run the company's operations and supervise the team. "There needs to be a layer between her and the managers so they have someone to go to for details," says Zdenek.
Martindale admits that the advisers' recommendations "are pretty scary. Either way means big change." Her first move may be to find a coach or to add board members with experience at larger companies to help her hire key staff. In the short term, those hires should help her overcome the burnout she has been feeling lately. Says Martindale: "I would really like it if it could be fun again."
By Virginia Munger Kahn
Before it's here, it's on the Bloomberg Terminal.
LEARN MORE