A Bank Mutual Admiration Society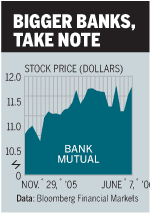 Bank Mutual (BKMU ) (BKMU), a thrift holding company, may have blipped onto the radar screens of big banks. It is, says Kevin Reevey of investment bank Ryan Beck (BFCF ), "a likely takeover candidate" that could attract bids from the likes of JPMorgan Chase (JPM ) or Wells Fargo (WFC ). (Ryan Beck advised Bank Mutual when it went public in 2000.) What's more, management could well be tempted to sell. Calls to CEO Michael Crowley Jr. weren't returned. Although it's the fourth-largest financial institution in Wisconsin, with $3.5 billion in assets, Bank Mutual isn't faring well. Earnings momentum from residential mortgages is decelerating, while efforts to build up commercial banking have met only limited success, says Reevey. Still, he rates the stock "outperform." Now 11, it's worth 15, he says. That's because Bank Mutual is big in markets where larger rivals are jockeying for position. He figures Wells Fargo could jump to fifth place from ninth in Milwaukee by buying the bank; JPMorgan could solidify its No.3 spot. Brad Milsaps of Sandler O'Neill & Partners agrees that takeover prospects should buoy the stock. He sees the bank earning 34 cents a share this year and 38 cents next, vs. 43 cents in 2005.
Note: Unless otherwise noted, neither the sources cited in Inside Wall Street nor their firms hold positions in the stocks under discussion. Similarly, they have no investment banking or other financial relationships with them.
By Gene G. Marcial
Before it's here, it's on the Bloomberg Terminal.
LEARN MORE