Spiral Sculptural Skyscraper for Moscow
British architects RMJM won the contract to build a 46-story tower in the Russian metropolis. It will have two intertwined coils
By
The procession of planned high-rises for Moscow's nascent financial district continued in May with the announcement by British architects RMJM that they received Mayor Yury Luzhkov's approval for a 46-story "City Palace" tower. Drafted in collaboration with Scottish artist Karen Forbes, the project is locally assisted by a division of design firm Mosproekt-2. The building's spiraling form is arguably the most sculpturally exuberant proposal yet presented in Moscow.
Described by its creators as "sensuous" and "organic, the tower's structure, composed of two twisting bands whose entwined coils evoke the joining of male and female halves, is intended as a metaphorical extension of the wedding motif. The rotating form plays off the more traditional massing that dominates the surrounding cluster of buildings. Stylistically it also responds to the sinuous structure of the retail and entertainment center at the central core of the district, designed by the Canadian firm Brisbin Brook Beynon. The tower's two ribbons are locked in a gesture of tense but fluid ascent. A glazed screen draped between them follows the structure, coalescing into a lobby and an entrance canopy at the base, while enveloping a ballroom space atop the building.
The tower will serve as a prominent entryway into the Moscow-City district occupying its southeastern plot , which connects to a completed pedestrian bridge. City Palace will contain about 1.8 million square feet of space, divided evenly between retail, administrative, and office functions, with a parking lot planned on three underground levels.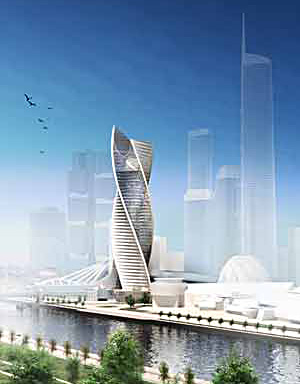 Image courtesy RMJM
In addition to a shopping mall and entertainment amenities, the plinth at the base of the building will include a 2,000-square-meter registry office used for wedding ceremonies. A panoramic elevator will deliver newlyweds to a special hall with the top-floor ballroom.
Commissioned by City Palace LLC, a subsidiary of S&T Equity (Overseas) Ltd., an offshore company owned by Alexander Chigirinsky, the brother of one of Moscow's most prominent developers, and CSC INTECO, operated by the wife of Moscow's mayor, the building is anticipated to cost over $1.5 billion. It is expected to be complete by 2009.
Like most high-rise projects in the capital, the lead role was assigned to an experienced Western firm that has already established a foothold in Russia. Earlier in April, RMJM won the tender to design a $500 million technopark in Novosibirsk, a major city in western Siberia, where it is already overseeing the construction of a business center.