U.S.: The Inflation Cloud Lifts A Little
New data show strong productivity, tame costs, and cooler demand
Normally, the government's revision to a previous quarter's report on gross domestic product is a pretty humdrum event. On the surface, the May 25 update of first-quarter real GDP, to an annual rate of 5.3%, up from 4.8% when it was first estimated a month ago, seemed to fit that mold. This time, though, it pays to look deeper, with special attention to the income numbers all that production generates for both households and businesses. Those trends signal important implications for the paths of consumer spending, capital spending, inflation, and Federal Reserve policy.
As it turns out, wage and salary income of workers in the fourth quarter of last year and in this year's first quarter didn't fare nearly as well as earlier data had indicated. Because of a sharp downward revision to wage income in the fourth quarter, take-home pay is now up only 4.2% from the year before, instead of 5.1%. Although that pace is still faster than the 3.6% rate of inflation, it suggests a little greater vulnerability for consumers this spring and summer as they cope with costlier gasoline, a weaker housing market, and the recent turbulence in the financial markets.
But at the same time, businesses are raking in profits at an ever-faster pace, partly because profit margins continued to expand through the first quarter. These strong earnings give businesses the means and the incentive to expand their capital spending and hiring. Even as consumers dial back their outlays, business demand for new equipment and facilities will still supply the economy with plenty of momentum.
EVEN MORE IMPORTANT, the revisions offer some comfort to those Federal Reserve officials who favor a pause in the Fed's two-year pattern of interest rate hikes. They imply that recent productivity growth is even stronger than first reported and that unit labor costs are increasing much more slowly. Strong productivity and less cost pressure mean that companies still have a lot of earning power and that the need to lift prices is less urgent. All this should bring some cheer to investors who have been whipsawed by recent market volatility caused by fears that the Fed may have to lift rates further.
Start with profits. Based on the first-quarter earnings figures compiled by the Bureau of Economic Analysis (BEA), which are far more inclusive of American businesses than the companies in the Standard & Poor's 500-stock index, profits among nonfinancial companies rose 29.3% from the previous year. That was the largest yearly advance in more than three years. Moreover, separate data from Thomson Financial (TOC ) show that S&P 500 earnings were strong even after excluding the windfall gains in the energy sector.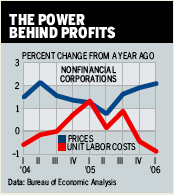 A big reason for the strength in earnings is the subdued trend in unit labor costs, which are the wages and benefits that companies cannot offset with gains in productivity. As a result, unit costs have the potential to squeeze profit margins and spur offsetting price increases. But despite tightening labor markets, companies have so far held the line on the growth of both wages and benefits. Because of that restraint, along with solid growth in productivity, unit labor costs for nonfinancial corporations have actually fallen 0.9% during the past year, based on the BEA's data.
Over the same period, prices in this sector have risen 2.1%. In fact, prices have increased faster than unit labor costs in every quarter during the past year. That's why profit margins continue to expand, allowing companies, on the whole, to earn more on each item they sell. Unit profits, or earnings as a share of real GDP, in the first quarter rose to 14.8%, from 14.3% in the fourth quarter and from 12.1% the year before.
This time last year, few economists expected margins to keep widening for another year. But surprising degrees of cost control, productivity growth, and pricing power have allowed margins to expand, a key reason why earnings last quarter beat expectations.
ANOTHER STRONG QUARTER for profits further illustrates the continuing health of the corporate sector and the thrust it still supplies to the nation's overall economic growth. Corporate cash flow rose to another record last quarter, more than $1.4 trillion, and it remains large enough to finance virtually all of American industry's capital spending needs, a capability that is unprecedented in the post-World War II era.
April orders for capital goods excluding aircraft dipped 1.7% from March, but that followed March's big 3.6% advance from February. The trend in new orders clearly remains upward, and April shipments of capital goods are running far above their first-quarter average, suggesting business investment will contribute strongly to GDP growth in the second quarter.
Consumers, on the other hand, will contribute considerably less this quarter than they did last quarter, when spending grew at a 5.2% annual rate. Based on the slim 0.1% increase in real consumer spending in April, following a similarly limp advance in March, April household outlays grew only 1.2%, at an annual rate, above the first-quarter average. With May buying looking tepid, consumer spending will be hard-pressed to grow much more than 2% for the full quarter.
Because household income has grown less than previously thought, consumers have been outspending their incomes to an even greater extent than earlier data showed. The personal savings rate in April now stands at -1.6%. Except for last year's hurricane distortion, that is a record low. Given worries over gas prices and housing, it's little wonder that the Conference Board's index of consumer confidence fell in May.
THE COOLER LOOK for both consumer spending and the economy may well have an important implication for Fed policy. It means that policymakers will feel less urgency to lift interest rates when they next meet, on June 28-29. Even if the price indexes look less than completely tame right now, a slowing in economic growth may allow some of the current upward pressure on prices to abate later this year. The slowdown may well encourage the Fed to wait to see if that is the case.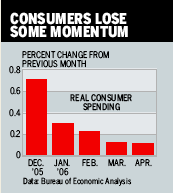 In April, the Fed's preferred measure of inflation, the core price index for personal consumption expenditures (PCE), which excludes energy and food, rose 0.25% from March. That gain pushed the 12-month inflation rate to 2.1%, above the Fed's 2% comfort limit. The pace during the first four months of the year, expressed as an annual rate, was a faster 2.7%.
Keep in mind, however, that the four-month growth rate for the core PCE price index also spiked well above the Fed's comfort level early in both 2004 and 2005, only to recede in the second half. The government's latest revisions to both output and income suggest that pattern could be repeated this year. The combination of slower economic growth, the restrained pace of unit labor costs, and less upward pressure on inflation and interest rates would be a big plus for the outlook that investors would embrace warmly.
By James C. Cooper
Before it's here, it's on the Bloomberg Terminal.
LEARN MORE