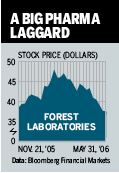 Forest Laboratories (FRX ) (FRX) has been a drag among drugmakers. It's down 8.7% this year, vs. the group's 1% loss. But some pros say Forest, whose stock has tumbled from 48 in February to 37 on May 31, is poised to turn around -- and has become quite attractive. It makes drugs for depression, pain, and cardiovascular and respiratory disorders. The bulls expect it to beat back a court challenge to patents on its antidepressant Lexapro from Israel's Teva Pharmaceuticals (TEVA ). Among those looking for a favorable ruling, expected in June, is First Global Markets analyst Kavita Thomas, who rates the company a "long-term outperform." Based on Forest's four-year growth outlook, likely new product launches, and higher sales estimates for its Namenda drug for Alzheimer's, Thomas expects earnings to rise at an average of 22% a year through 2008. She notes that Forest has licensed several new drugs recently. These include Mylan Labs' (MYL ) beta-blocker Nebivolol, as well as Desmoteplase, an intravenous treatment for acute ischemic stroke from Germany's Paion that's now in Phase 3 clinical trials in the U.S. Paion CEO Wolfgang Söhngen says the only clot buster approved for stroke victims in the U.S. is Genentech's (DNA ) tPA. To be fully effective, tPA has to be administered within three hours of a stroke, says Söhngen, while Desmoteplase can be given up to nine hours later. Deborah Knobelman of Piper Jaffray (PJC ) expects Forest to earn $2.37 a share for fiscal 2007 ending Mar. 31, 2007, on sales of $3.3 billion, vs. fiscal 2006's $2.08 on $2.9 billion. She rates Forest "outperform."
Note: Unless otherwise noted, neither the sources cited in Inside Wall Street nor their firms hold positions in the stocks under discussion. Similarly, they have no investment banking or other financial relationships with them.
By Gene G. Marcial
Before it's here, it's on the Bloomberg Terminal.
LEARN MORE