Disney And Gold Get Tough With iPass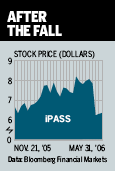 Investors may get another chance to ride the coattails of Roy Disney and Stanley Gold. Their Shamrock Capital Advisors has acquired a 12% stake in iPass (IPAS ) (IPAS), which sells software to let employees connect wirelessly with their offices and the Internet. A May 16 Securities & Exchange Commission filing reporting the increased stake included a letter Shamrock sent CEO Ken Denman of iPass citing its dismal earnings. Shamrock criticized management's failure to answer its plea to improve "crucial governance areas" such as capital allocation, compen-sation, and cost structure. Shamrock used similar tactics on Inrado, a provider of 911 phone services to carriers: It took a 6.2% stake last August. In January, West Corp. (WSTC ) bought Intrado at 26 after Shamrock had urged Intrado to sell. Shamrock is seeking a meeting with iPass' board. Eric Appell of investment firm Merriman Curhan Ford (MEM ), who owns shares, says Shamrock isn't likely to leave until the board acts. Failing that, Shamrock is apt to push iPass to sell, says Appell, who rates it a buy. He figures iPass, now at 6.29, is worth 13. IPass says "it values the input of shareholders and will continue to have a dialogue with them."
Note: Unless otherwise noted, neither the sources cited in Inside Wall Street nor their firms hold positions in the stocks under discussion. Similarly, they have no investment banking or other financial relationships with them.
By Gene G. Marcial
Before it's here, it's on the Bloomberg Terminal.
LEARN MORE