Las Vegas, Singapore
Architect Moshe Safdie's $3.6 billion Marina Bay Sands will be the country's first casino
Robert Such
Moshe Safdie and Associates has been selected to design what is most likely its largest project to date: a new resort in Singapore that will include three 50-story hotel towers and a 1,000-foot-long public sky garden. The project, backed by U.S. gaming company Las Vegas Sands, will be called the Marina Bay Sands resort complex. Safdie will masterplan and design the $3.6 billion undertaking, which will also include Singapore's first casino. The firm will partner with the Singapore office of U.K.-based Aedas.
Located on Marina Bay in downtown Singapore, the complex — sandwiched between a two-acre garden and the waterfont— will be organized along a north-south promenade and crossed by two east-west streets. The scheme is designed as "a microcosm of the city," says project architect Trevor Thimm. "The massing and siting of the buildings," he adds, "maintains views and connections to the waterfront."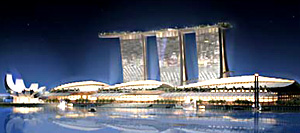 Image courtesy Moshe Safdie & Associates
The project will focus on the three hotel towers, which taper in at their centers and out at their top floors and bases. The unique sky garden, atop a large platform, will cantilever out a minimum of 16 feet. To the north, the platform will have a 164-foot overhang. The architects are "treating the cantilever as an airplane wing," says Thimm. During the initial design phase the architects consulted Canadian wind engineering specialists RWDI, and in the next stage the firm will work with Arup on structural and mechanical engineering.
Between the splayed, curved walls of the hotel towers the architects will create a continuous atrium linking the three hotels. Inside, walkways will connectthe top 25 stories of each tower.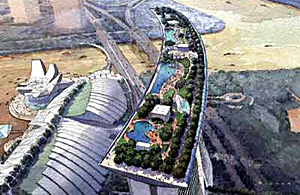 Image courtesy Moshe Safdie & Associates
The resort will also include two 2,000-seat theaters, a five-story convention center and a metal-and-glass arts-and-science center in the form of a lotus flower. Extending out from the waterside promenade, the Bayfront Promontory will be built on hydraulic lifts, that will allow it to change from a stepped seating area into a level stage for outdoor events.
Unveiled by government ministers at the end of May, the scheme joins other large-scale urban development projects now slated for construction around Marina Bay, an area being touted as a rapidly emerging downtown district. New infrastructure and tourist attractions in the area underpin Singapore's efforts to promote itself as a growing Asian business hub.
The resort is set to open in 2009.
Before it's here, it's on the Bloomberg Terminal.
LEARN MORE