By Mara Der Hovanesian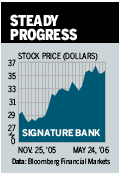 It's not easy to start a commercial bank from scratch. But that's what 100 staffers, including high-level managers, did when they jumped ship from Republic National Bank five years ago. Signature Bank (SBNY ) (SBNY), launched in a deal crafted by Wall Street luminary Lewis Ranieri, is on a growth tear. It targets private businesses that have revenues of less than $50 million and payrolls of less than 1,000 -- a niche that rival banks have neglected. Since May, 2001, Signature has lured 42 teams of bankers from rival banks and intends to do more hiring this year. This poaching strategy has paid off. Profits rose 39%, to $8 million, in the first quarter, while assets have hit $4.4 billion and deposits $3.5 billion. Analyst Gary Townsend of Friedman Billings Ramsey (FBR ) recently upgraded his 12-month target for Signature, which trades at 35.85, from 38 to 44, and thinks there may be more upside as it expands beyond New York. "They are taking market share at a pretty good clip from everyone else, terrorist attacks and recessions notwithstanding," says Townsend. "We don't know if [this stock will] double or quadruple, but there's a good future for Signature that makes it a good bet for investors." David Long of William Blair figures earnings will reach $1.20 a share this year, and $1.56 next, up from 86 cents in 2005. Over the next five years he expects earnings per share to rise an average of 23% annually, compared with 14% for competitors.
Note: Unless otherwise noted, neither the sources cited in Inside Wall Street nor their firms hold positions in the stocks under discussion. Similarly, they have no investment banking or other financial relationships with them.
Corrections and Clarifications In "Signature: All signals go" (Inside Wall Street, June 5), an item on Signature Bank (SBNY ) should have said the executives were formerly of Republic National Bank, not First Republic Bank (FRC ).
Gene Marcial is on vacation.
Before it's here, it's on the Bloomberg Terminal.
LEARN MORE