Sierra Looks Ripe For The Picking
By Mara Der Hovanesian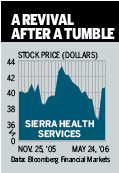 Health-Maintenance Organization stocks, down 37% this year, are set to become prime takeover targets. The pick of the pack may be Las Vegas-based HMO administrator Sierra Health Services (SIE ) (SIE), says Ivan Feinseth of Matrix USA, an independent research shop in New York. Sierra has tons of cash already -- $392 million, or $7 a share -- in addition to an ample $239 million a year in free cash flow, he says. "You have your downpayment in cash flow," says Feinseth, who figures the 40.56 stock is worth at least 59. By his back-of-the-envelope reckoning, a buyer could afford to pay a 25% premium and bid 50 a share, giving Sierra a $2.6 billion price tag. The company generates a 24% return on capital, the highest of any HMO, and has a lock on the fast-growing Southern Nevada market. Sierra "will not be a stand-alone public company much longer," predicts Feinseth. On May 10, Peter Costa of FTN Midwest Securities's Boston office upgraded the stock to "buy" with a 12-month target of 44.
Note: Unless otherwise noted, neither the sources cited in Inside Wall Street nor their firms hold positions in the stocks under discussion. Similarly, they have no investment banking or other financial relationships with them.
Gene Marcial is on vacation.
Before it's here, it's on the Bloomberg Terminal.
LEARN MORE