Gas Prices: Some Relief For Summer Drivers
As the average price of gasoline in the U.S. has marched toward $3 per gallon, inflation worries have grown and consumer confidence has waned. But some relief is now in sight as fundamental supply and demand conditions improve.
The average price of gas in the U.S. eased to $2.88 a gallon for the week ended May 22. That was a 2.2% fall from $2.94 the prior week, which happened to be the highest price outside of a brief two-week period in September after Hurricane Katrina.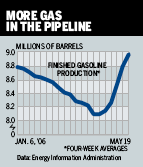 Further declines in the average price of gasoline are likely just as the busy summer driving season gets under way. The New York Harbor spot price for gasoline is down nearly 6% since mid-April. The Energy Information Administration sees gasoline prices moderating over the summer with an average second-quarter forecast price of $2.84 and a third-quarter price of $2.69.
The recent turn in gasoline prices is largely a response to an increase in supply. Over the four-week period ended May 19, production averaged 8.97 million barrels a day, the highest level this year. Gasoline imports over the same period hit post-hurricane levels. At the same time, demand for gasoline is leveling off. Demand in the first quarter was up nearly 1% from the previous year. So far this quarter, consumption is about unchanged.
The fact that demand has not fallen despite the past year's surge in gasoline prices illustrates the resilience of consumers. For starters, stronger labor markets are helping to offset higher energy costs. What's more, the impact of higher gasoline prices still looks manageable for most consumers. According to the EIA, the current increase in gas prices from the previous year would lift the cost of a 500-mile, round-trip drive by about $25 for a gas-guzzling vehicle that only gets 15 miles per gallon.
While conditions do look better, several risks remain. Ethanol, which is added to gas in order to reduce emissions, is still at record high prices. Volatility in the oil market because of geopolitical issues and the upcoming hurricane season could stay high. But as long as conditions remain favorable, improved output should allow prices to keep easing.
By James Mehring in New York
Before it's here, it's on the Bloomberg Terminal.
LEARN MORE