What's up in downtown LA?
by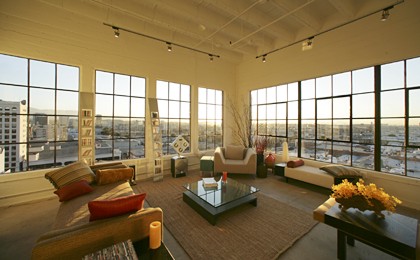 It's been years in the making. Even as cities such as Cleveland, Denver, Houston and San Diego enjoyed startling rebirths of their downtowns, Los Angeles, king of sprawl, could only sit back and watch with envy. The last few years have changed that. Soaring real estate prices elsewhere in the city coupled with some major public infrastructure investments have spurred a residential boom in downtown L.A. Since 1999, 7,000 new residential units--like the Santee Village loft pictured above--have been built or rehabilitated. An additional 100 more projects are in various stages of development. Eli Broad, the city's top philanthropist and backer of a $1.8 billion rejuvenation of downtown's Grand Avenue, is leading a delegation to New York on June 1 to drum up more interest from investors and the media. Also on board will be Tim Leiweke, president of Anschutz Entertainment Group, which is building a $2.5 billion entertainment/residential complex on the other end of downtown.
Two things are most surprising about downtown L.A.'s renaissance. The first is that unlike other cities that have enforced vagrancy laws and gotten the homeless off the streets, Los Angeles has not. In fact a federal court last month ruled that arresting the homeless constituted cruel and unusual punishment because there simply aren't enough shelters for them to go to. The second fascinating thing is that there is almost no discount for buying in downtown L.A. Kevin Ratner, a senior vice president at developer Forest City, which has two buildings under construction there, says sales of its condos are averaging $600 a square foot, roughly what developers are getting for similar properties in other parts of the city. Homeless people regularly set up tents and cardboard huts on the sidewalks, turning them into a modern day version of Valley Forge every night. Los Angeles police allow this as long as they are removed by 6 a.m. This happens on some of the very same streets above which the more well-to-do are paying $1 million or more for condos. It's a very strange turn of events and the only place in the world I know of where that level of privilege and poverty intersect so obviously. Let's hope there's room enough for everyone in downtown's renaissance.

Before it's here, it's on the Bloomberg Terminal.
LEARN MORE