Why Patterson May Get Its Smile Back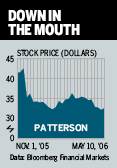 Investors in Patterson (PDCO ), the No. 2 supplier of products to dentists and dental labs in North America, have suffered: The stock has been ground down from 53 a year ago to 32.49, almost a 52-week low. Analysts see earnings growth slowing because of a more competitive environment. But Peggy Farley, president of Ascent Capital Management, which owns shares, isn't fazed. She says Patterson still shows growth in its sales and earnings and "gives every sign of continuing to do so." It is such an undervalued stock, she says, that it could "attract a major company like Johnson & Johnson (JNJ ) that might want to add more dental to its product lines." Management would "seriously consider an offer," argues Farley. Patterson is worth $8.5 billion, or $60 a share, figures Farley, who sees profits of $1.50 a share in 2006 on sales of $2.7 billion and of $1.70 in 2007 on $3 billion. Richard Tortoriello of Standard & Poor's (MHP ) notes that there's consolidation in the industry. He says demand for supplies is strong amid a shortage of dentists, who need new technology to treat more patients. Based on an estimated 15% annual earnings in the next five years, he rates Patterson a "buy," with a price target of 42. Patterson did not return calls.
Note: Unless otherwise noted, neither the sources cited in Inside Wall Street nor their firms hold positions in the stocks under discussion. Similarly, they have no investment banking or other financial relationships with them.
By Gene G. Marcial
Before it's here, it's on the Bloomberg Terminal.
LEARN MORE