The U.S. dollar has taken a beating in the past few weeks. Since early April it has fallen 5% against a basket of major currencies, to a 12-month low vs. the euro and an eight-month low vs. the yen. The decline mainly reflects a realignment of global interest rates, which is making non-dollar assets more attractive. The slide, if it continues, could seriously complicate Fed policy.
The Fed's May 10 policy statement clearly opened the possibility that, economic data permitting, it will soon end its two-year string of rate hikes. The expected pause is likely to come just as rates in the euro zone and Japan rise. At its May 4 policy meeting, the European Central Bank held rates steady but indicated more hikes are likely, and economists expect the Bank of Japan to end its 0% interest rate policy this summer. As spreads between U.S. and foreign rates narrow, demand for the dollar could weaken.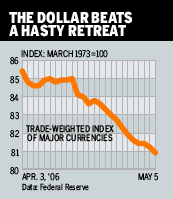 A falling greenback could trigger extra inflation pressures by making imports costlier and giving U.S. companies room to raise prices. While a 28% drop in the dollar vs. the major currencies between 2002 and 2004 had a limited impact on prices, this time might be different.
For starters, the global economy is expected to grow by nearly 5% this year, after three years of more than 4% growth. This is gobbling up the idle production and labor capacity that had kept a lid on inflation. Tighter labor markets, along with costlier energy, also have altered inflation expectations, which can open the door for price increases. April data from the University of Michigan show that inflation expectations for the next year jumped to 3.3%, up from 3% in March.
What's more, the latest dollar drop has been rapid. "A faster decline, especially if producer and investors are unhedged, could catch them off guard and promote pricing power," says Morgan Stanley (MWD ) chief U.S. economist Richard Berner in a May 5 research note. If the dollar keeps falling at this pace, it could force the Fed to lift rates at a time when domestic issues, such as the housing slowdown, would otherwise dictate holding rates steady.
By James Mehring in New York
Before it's here, it's on the Bloomberg Terminal.
LEARN MORE