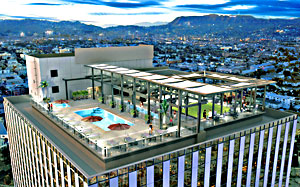 In city planning-speak it's called adaptive reuse, but in the real world that means taking old structures of one kind and turning them into something else. A fine example of that is the old Getty Oil headquarters in the Koreatown section of Los Angeles. The 23-story building, now dubbed the Mercury by Cleveland-based developer Forest City, is being converted into 238 condos, priced from the low $400,000s to over $1 million. The original office tower opened in 1963. Many of the old Los Angeles buildings that used to be oil company headquarters have been turned into condos or boutique hotels. Cities create incentives for developers to do this. After all, the Getty building had been vacant for years.
Renata Simiril, who's in charge of the Mercury project, says exemptions for adaptive reuse developments allowed Forest City to put risers up in the studio apartments to create a more defined space between the main room and the sleeping area. That wouldn't normally have been allowed under rules that require equal access for people in wheelchairs. Forest City was also allowed to build one parking space per bedroom when city ordinances require two per unit. Balconies in some of the condos were more of a problem. Originally, the company thought it could build enclosed patios without the level of drainage and ventilation normally required. That didn't turn out to be the case. But Forest City built the balconies anyway, figuring many condo buyers would want a place to smoke. The Mercury is just a few blocks from the old Getty Mansion. It was donated to the city by the Getty family and now serves as the Los Angeles mayor's residence. That's adaptive reuse too, sort of.
Before it's here, it's on the Bloomberg Terminal.
LEARN MORE