Housing: Renovations Could Get Hammered
When it comes to housing, sales and new construction aren't the only areas where activity is flagging. Higher interest rates, escalating prices for materials, and a slowdown in house sales also have consumers scaling back spending on renovations. The easing in home improvements should further soften demand for housing-related goods and services.
On May 1, a U.S. Census Bureau report on expenditures for residential improvements showed that spending in 2005 grew by 9.2%, down from the 12.3% surge in 2004. Meanwhile, a broader monthly report on construction outlays shows renovations in the first quarter are off 10% from a year ago. Typically, home improvement spending trails trends in home sales, implying that further weakness is on the way.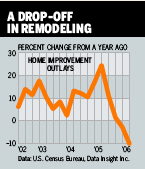 The home improvement sector, which makes up about 2% of the U.S. economy, according to the National Association of Home Builders (NAHB), had been booming right along with the rest of housing. Low interest rates and rapid price appreciation made it attractive to finance renovations by tapping home equity. In addition, a dearth of better investment alternatives also made renovation projects appealing, says Kermit Baker, director of Harvard University's Joint Center for Housing Studies.
While March home sales figures were better, the trend is clearly pointing downward. Pending home sales fell 1.2% in March, weekly mortgage applications continue to soften, and the average 30-year fixed mortgage rate is now up to nearly 6.7%. Also, employment gains for residential remodelers over the first two months of the year were the weakest since 2002, despite a record warm January that should have boosted activity. Analysts will also be eyeing the NAHB first-quarter survey of remodelers, due out in May, to see if it fell a fourth straight quarter.
Housing analysts remain upbeat about home improvement spending this year, but the risks are clearly growing, especially if home sales slow more than expected. That would cut sharply into retail sales of building materials and services, adding to the drag on consumer spending.
By James Mehring in New York
Before it's here, it's on the Bloomberg Terminal.
LEARN MORE