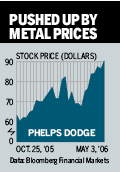 Copper prices are soaring, and so is Phelps Dodge (PD ). Shares of the world's second-largest producer of the red metal have risen from 59 in October to 90.20 on May 3. Copper hit $3.25 a pound on May 1, up from $1.70 at the start of the year. "But don't think the stock or copper prices have peaked," says Arnold Schmeidler, president of investment adviser A.R. Schmeidler, which owns shares. Global demand for copper will keep climbing as industrialization spreads -- in China, India, Brazil and Eastern Europe, he argues. And prices will continue to rise for two years at least, he says. With Phelps's solid balance sheet, its $2.2 billion in cash on hand, and robust growth in cash flow and earnings, the stock is cheap, says Schmeidler. Now trading at eight times his estimated 2006 earnings of $12 a share, the stock deserves a price-earnings ratio of 10, he says, which translates to a share price of 120. Phelps has been returning some of its cash bounty to investors: On Mar. 3 it paid a special dividend of $2 a share, apart from its regular dividend. (The stock yields 3.2%.) And analysts expect it to buy back more shares. Paul Forward of Stifel Nicolaus, which has done banking for Phelps, recently upgraded the stock from "hold" to "buy" and raised his 2006 earnings estimate to $15 a share on projected revenues of $10.8 billion, up from $7.75 on $9 billion. His estimate for this year's average on copper prices is up from $1.88 to $2.65 a pound.
Note: Unless otherwise noted, neither the sources cited in Inside Wall Street nor their firms hold positions in the stocks under discussion. Similarly, they have no investment banking or other financial relationships with them.
By Gene G. Marcial
Before it's here, it's on the Bloomberg Terminal.
LEARN MORE