U.S.: The Fed's Rate Debate Is About To Heat Up
With the economy surprisingly fit, the pressure to curb inflation won't ease
Sometimes Fed watching seems to border on the ridiculous. Take the latest controversy over what the recently released minutes of the Federal Reserve's Mar. 28 meeting said or didn't say about which way the Fed was leaning on future policy. Lehman Brothers (LEH ) economist Ethan Harris notes that, out of 55 sentences in the key "members discussion" section, 23 were hawkish, suggesting the need for higher rates; 20 were dovish, hinting at no need for more hikes; and 12 were mixed or ambiguous. And economists get paid for this.
Harris' exercise does illustrate an important point: Fed meetings are about to get a lot more interesting than they have been in several years. Some policymakers are already raising questions about tightening too much, while others are concerned that labor market pressures and rising energy costs could fuel inflation outside of energy. From here on, policy decisions will depend almost totally on what the economic data imply about growth and inflation, but different people can interpret data in different ways. Under new Chairman Ben S. Bernanke, the Fed's more democratic style is almost certain to generate greater debate -- and more dissenting votes.
One of the hottest topics around the Fed's table will be the role of globalization in policy decisions. U.S. prices of everything from copper to bonds to labor are now influenced by market forces overseas. Globalization ups the ante on finding the right level of interest rates that will keep U.S. inflation at bay. The dialogue is already heating up. The Mar. 28 minutes said "participants exchanged views on the extent to which conditions in foreign markets may be constraining prices domestically." That's a sanitized way of saying Fed officials have very different opinions on this key subject.
THE DEBATE IS BECOMING especially important because the anti-inflation forces of globalization, while still present, are not as strong now as they were in recent years. Outside the U.S., demand is growing faster in a number of countries, as reflected in the recent surge in industrial commodity prices, and that demand is absorbing more and more of the world's production capacity and labor. Even in China, labor shortages are pushing up wages. Plus, the dollar is much more likely to decline than rise in the coming year, a trend that will lessen price competition with many imported goods.
At the same time, inflation forces in the U.S. are gaining strength. Foreign competition and outsourcing have not prevented the industrial operating rate, a measure of how much production capacity companies are using, from rising to a 5 1/2 -year high. Nor have they stopped the unemployment rate from falling to a 4 1/2 -year low. Productivity is not growing as rapidly as it had been, which provides less of an offset to wage increases, and many companies continue to exhibit more pricing power in their efforts to cope with soaring energy costs.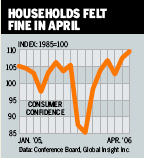 Amid these forces, a significant slowdown in the economy's pace is now the sine qua non for containing inflation in the coming year. After the economy's very strong showing in the first quarter, policymakers are looking for signs that second-quarter growth is settling down. However, evidence of such a cooldown remains scant.
In particular, consumers remain in excellent spirits, and they continue to spend, despite rising gasoline prices. Weekly store surveys show strong Easter sales. Contrary to expectations, the Conference Board's consumer confidence index rose for the second month in a row in April to the highest level in almost four years. In addition, March sales of existing homes edged higher, and purchases of new homes scored the largest monthly increase in 13 years.
Those reports show the impact of strong labor markets. Consumers may face higher mortgage rates and gas prices, but gains in jobs and incomes are providing an offset. Since the end of last year, the percentage of households saying that jobs are "plentiful" has been rising steadily, while the percentage describing jobs as "hard to get" has continued to decline. In April both readings were the most upbeat in more than 4 1/2 years.
THE LATEST SURGE IN OIL and gasoline prices also will stoke the policy discussion. According to Bernanke, the doubling in oil prices in the past two years has shown up mainly as a depressant on economic growth and not as a fuel for inflation outside of energy. Bernanke recently noted that since late 2003, increases in energy prices have probably reduced annual growth in real gross domestic product by 0.5 to 1.0 percentage points. But without a substantial slowing in the economy, more of the recent rise in energy costs seems increasingly likely to work its way into prices of other products.
Even before oil's jump to more than $70 a barrel in April, the March consumer price index offered the first hint that costlier energy might be finding its way into prices more broadly. The core CPI rose 0.3% from February, the largest monthly rise in a year. One month isn't a trend, but a similar rise in April would be a bad sign that the Fed may have fallen behind in its battle to keep inflation confined to energy. Another factor to watch: Despite the slowdown in house prices, housing costs might well be rising faster in coming months.
MANY BUSINESSES ARE COPING well with rising energy costs, and higher product prices appear to be helping. Companies are also plowing ahead with plans for new capital spending, as seen in the large March rise in capital goods orders. Consider that in the first quarter, wholesale prices for finished energy products stood nearly 20% higher than the year before. Yet the bottom line for many corporations shows little strain.
The flow of first-quarter earnings reports is only now starting to pick up. But so far, earnings are coming in a bit ahead of expectations. As of Apr. 21, 165 companies in the Standard & Poor's 500-stock index had reported, and 68% showed earnings above analysts' expectations at the start of the quarter. Combining actual reports with the current estimates for corporations that have not yet reported, Thomson Financial (TOC ) says that first-quarter earnings growth for the S&P 500 should come in 12.6% ahead of a year ago, slightly higher than the 12.1% expectation before the quarter began.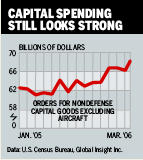 That outlook is supported by the findings from Morgan Stanley's (MS ) early-April survey of its research analysts on current business conditions. The canvass suggested that profit margins are still rising, aided by strong pricing power. Companies will surely find it increasingly difficult to expand their margins, given that costs rose further during April, but the survey clearly suggests that it won't be for a lack of trying.
For now, despite the policymakers' divergent opinions, the Fed appears to be signaling that it will make one further quarter-point increase in its target rate, to 5%, at its May 10 meeting and then pause to consider what hikes totaling four percentage points in nearly two years have wrought. After that, if the data remain inconclusive about slower growth and tame core inflation, the debate is sure to heat up.
By James C. Cooper
Before it's here, it's on the Bloomberg Terminal.
LEARN MORE