Inflation: Raising The Roof On Housing Costs
The consumer price index for March caused a stir in financial markets. The core index, excluding energy and food, rose a larger-than-expected 0.3%. One of the culprits was a jump in the cost of housing, which may exert more upward pressure in coming months, even as housing activity slows.
By the Bureau of Labor Statistics' measure, homeowners' monthly cost of shelter, excluding utilities, rose 0.4% in March. During the first quarter, the index grew at an annual rate of 3.3%, the fastest since the second quarter of 2002.
The BLS calls this index "owners' equivalent rent of primary residence," because it bases the cost of housing on rental prices of properties. The BLS looks at rents instead of actual home prices because the CPI measures the current costs of consuming goods and services, not the value of assets. An implied rent provides a monthly tracking of how the market price of occupying a home is changing.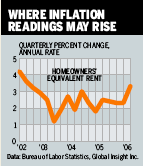 Importantly, the index for homeowners' equivalent rent accounts for about 30% of the core CPI, and the index tracking actual rents, which also increased 0.4% in March, makes up a further 7.5%. Both indexes appear set to accelerate. When the housing market was hot, demand for apartments eased, and vacancy rates climbed, restraining rents. This also dampened the index for homeowners' equivalent rent. It increased only by a modest 2.3% in both 2004 and 2005, compared with the long-term average rise of 3.6%.
Now, with home affordability sharply lower and mortgage rates rising, demand for apartments is on the upswing. The National Association of Realtors is forecasting a 5.3% increase in the average rent across the U.S. this year, which should push up both price indexes.
"All of this is creating an odd predicament for the Federal Reserve," says JPMorgan economist Michael Feroli. Fed rate hikes are weighing on housing, which in turn is helping to push up the price indexes for shelter. What's uncertain is how the Fed will account for this relationship in future monetary policy decisions, especially if the big March increase is repeated in coming months.
By James Mehring in New York
Before it's here, it's on the Bloomberg Terminal.
LEARN MORE