U.S.: The Forecast: Mostly Sun, But Watch The Clouds
Costlier oil, weaker housing, and rising rates are casting longer shadows
So far this year, the economy generally has exceeded the expectations that many forecasters set for it at the end of 2005. By and large, prospects remain bright for continued solid growth with only a slight pickup in inflation. However, three dark clouds are forming over this attractive landscape: oil, housing, and interest rates, and they will deserve special monitoring in coming months.
Back in December, these were the three areas of concern most often cited by economists in the Business Outlook survey of 2006 forecasts, and all three have taken on a higher profile recently. These are the risks with the greatest potential to alter the outlooks for consumer spending, the financial markets, and Federal Reserve policy. Perhaps more important, they are starting to buffet the economy all at once.
Higher gasoline prices will almost certainly take a bite out of consumer spending at some point this spring. The same thing happened in the spring of 2004 and again in 2005. Costlier energy also threatens a new round of uncertainty in the corporate sector that could stymie capital spending plans and hiring. This time, there are additional drags. The general rise in long-term interest rates in recent weeks suggests that the Fed's hikes in short-term rates are finally starting to squeeze overall credit conditions. Plus, housing is weakening.
All this sets up a potentially nasty dilemma for the Fed. Prior to the latest runup in oil prices, the Fed sounded as if it were about ready to stop lifting rates, based on the minutes from its Mar. 28 meeting. Now higher energy costs heighten the threat that companies will pass them along in higher prices for their products. In March, consumer prices outside of energy and food rose by a more-than-expected 0.3%, the largest monthly gain in a year. That's a reason for the Fed to tighten policy further.
But with housing losing ground and mortgage rates already rising, additional Fed tightening could severely damage the real estate market -- and hurt the economy as well. The minutes also said that some at the Fed were now concerned about tightening too much.
THE LATEST JUMP IN OIL PRICES is the No. 1 risk. Oil hit $70 per barrel on Apr. 17, and this time there are no hurricanes to blame. Mounting uncertainty over Iran's nuclear ambitions are fueling speculation about future supplies, and prices may stay lofty for some time since that situation is unlikely to be resolved soon. Gasoline prices averaged $2.78 per gallon on Apr. 17, up 24% from a year ago, and the summer driving season hasn't even begun yet.
Consumers will feel the squeeze, and a change in their mood is bound to be reflected in the various confidence measures due out in May. Compared with a year ago, households in April will have diverted an additional $70 billion of their income toward gas purchases. To put that in perspective, aftertax income over the past year has risen by about $460 billion, meaning that nearly 15% of the gain is going to costlier gas. That leaves less to spend on other goods and services.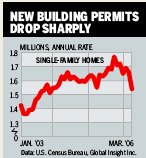 But expensive gas alone won't be a knockout blow for consumers -- for the same reasons it wasn't last year. First, job growth is strong and wages are growing faster. That means income growth will likely exceed its 2005 pace. Second, many households have sizable gains in wealth from financial and real estate assets to support consumer spending.
In addition, assuming oil does not soar much past $70 per barrel, then the worst of the runup in gas prices may be over. Based on the relationship between the quarterly averages of prices for crude oil and gasoline since 1985, $70 oil would imply gas in the range of $2.60 to $2.80 at the pump. The Energy Information Administration's latest forecast, issued on Apr. 11 when oil prices were above $68, expects gas prices to average $2.62 this summer.
BUT THE QUESTION MARKS are not just from oil. Housing is also attracting more attention, and the evidence now goes beyond rising inventories and hints of softer prices. Housing starts plunged 7.8% in March, to an annual rate of 1.96 million. It was the third drop in the past four months, with the only increase coming in January, when starts were boosted by the month's unusually balmy weather. Also, new permits to begin construction fell to the lowest level since November, 2003 .
The slide has further to go. Through January and February, sales of existing single-family homes, existing condominiums and cooperatives, and new homes were all running below their fourth-quarter averages, which were each below their third-quarter levels. The drop-off in new home sales has been especially sharp and broad. Both Toll Brothers Inc. (TOL ), a builder of luxury homes on the East Coast, and KB Home (KBH ), which concentrates on lower-priced homes on the West, have reported double-digit declines in first-quarter orders vs. last year's first quarter.
Other key indicators of housing demand this spring and summer continue to weaken. Through mid-April, mortgage applications to buy a home had ratcheted sharply lower in 2006, and an April reading on homebuilders' assessments of market conditions was the lowest since the 2001 recession. Those two gauges do a good job of tracking housing starts about three months ahead. Right now they suggest that the annual rate of starts could fall as low as 1.8 million this summer.
FINALLY, THERE'S THE CONCERN over interest rates. The problem for the Fed is knowing when to declare victory over the threat of inflation. But that task is now made more difficult by another surge in energy costs, just at the time when past rate hikes are starting to gain traction, especially in housing. So far, the ability of businesses to digest higher costs without passing them forward to product prices has been remarkable. For more than three years overall inflation, boosted by energy, has been running well ahead of core inflation, which excludes prices of energy and food.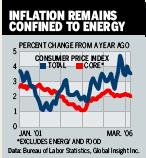 But this jump in energy costs also comes at a time when price pressures are more intense than they were in 2004 or 2005. For example, a broad range of commodity prices is up sharply. Spot prices for the 13 commodities in the Commodity Research Bureau's index of raw industrials, which excludes oil, have risen 14% since early December. Also, the labor markets have tightened further, putting upward pressure on wage growth that is exceeding productivity gains. Plus, production capacity is stretched thin by strong demand. In March industrial companies were using 81.3% of their available capacity, the highest utilization rate in 5 1/2 years. As a result the Fed may feel compelled to continue to lean against these growing price pressures with higher interest rates.
Keep in mind that for now these are still only dark clouds in the distance. Most likely, consumers and businesses will be pinched by costlier energy, but they will cope as they have done for two years. Housing will fall back to reality, but it won't drag down the economy. And inflation will remain tame enough to prevent the Fed from overdoing it on interest rates. Nevertheless, investors should keep a sharp eye on the horizon.
By James C. Cooper
Before it's here, it's on the Bloomberg Terminal.
LEARN MORE