My Ol' Virtual '53 Chevy
At the end of my cover story, Virtual World, Real Money, my avatar
Rob Hof

At the end of my cover story, Virtual World, Real Money, my avatar "Rob Cranes" had run into a "residents association" in this part of the online virtual world Second Life that wanted his little plot of land for some kind of amphitheather project. Annoyed by considerable pressure from the association's representative, "Amy Stork," he wondered if maybe an old faded Chevy might look pretty good smack in the middle of a bunch of Roman or Greek temples. Unfortunately, my avatar's creator (that's me) hasn't yet really figured out how to build stuff in Second Life.
No problem! A Second Life resident over the weekend graciously donated a rusted '53 Chevy, a real virtual eyesore. It now graces my avatar's plot, where it looks like it ran into a tree. Rob Cranes' faith in virtual humanity is restored.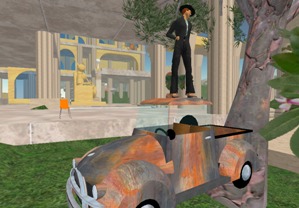 Still, I'm now wondering if maybe my avatar was a little hasty. It turns out "Amy Stork," who wrote me an RL (real-life) e-mail, has a sense of humor I can admire. She decided on a second reading of the story to "cancel the RL hitmen" and suggests that "we could always recast [the Chevy] in gold or bronze and stick it on a marble pedestal then it would fit with the roman theme." So Mr. Cranes is considering whether virtual harmony might best be restored by cooperating, assuming he can find some better land at a decent price. Of course, it's up to him.
Before it's here, it's on the Bloomberg Terminal.
LEARN MORE