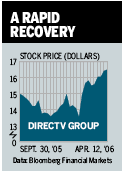 Investors are tuning back to DirecTV Group ( DTV ). After tumbling from 16 last summer to 13 in December, shares of the No. 1 U.S. satellite broadcaster, with 15 million subscribers, have rebounded to 16.50. For one thing, investors are paying more attention to the cash flow and earnings of companies in the industry. And DTV, in which News Corp. (NWS ) has held a 34% stake since 2003, is "an attractive cash-flow play in an environment of slowing profits," says David Sowerby, portfolio manager at investment firm Loomis Sayles, which owns shares. Sowerby expects free cash flow will more than double, to $2 billion, by 2008, up from an estimated $875 million this year. DTV, now chaired by News CEO Rupert Murdoch, will use some of that to finance a $3 billion, two-year share buyback announced in February. Revenues should grow at an annual rate of 12% to 13% for the next three years, says Sowerby, who expects the stock to reach 21 in a year. The shares could go much higher, he says, if DTV's launch of HDTV by yearend and its upgrading of services such as DVRs succeed. Todd Mitchell of securities firm Kaufman Brothers expects the company to add 1 million new subscribers this year. For 2006 he sees earnings of 81 cents a share on revenues of $14.6 billion, and for 2007, $1.01 on $16.3 billion, vs. 2005's 24 cents on $13.2 billion. At 16.3 times 2007 earnings, DTV is a "buy," he says.
Note: Unless otherwise noted, neither the sources cited in Inside Wall Street nor their firms hold positions in the stocks under discussion. Similarly, they have no investment banking or other financial relationships with them.
By Gene G. Marcial
Before it's here, it's on the Bloomberg Terminal.
LEARN MORE