I ran across the online virtual world Second Life at least a year and a half ago, when I heard that Omidyar Network, eBay founder Pierre Omidyar and his wife Pam's investing group, had put money into it. I had never been a gamer, recognizing a potential addiction from miles away and not having time to indulge it. But Second Life was harder for me to ignore because, unlike more traditional online games such as EverQuest and World of Warcraft, it was so open-ended: The people in it create nearly everything in this virtual world, something that played nicely into The Power of Us cover story BusinessWeek ran last year.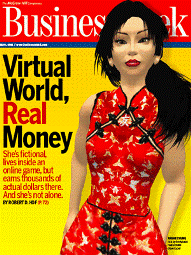 After poking around for a few months and discovering a real economy sprouting up inside it, I knew there was a lot more to write about. So I spent several months inside Second Life, resulting in a cover story that's running this week.
Writing a story on such an unusual topic (at least for a business magazine) means that I had to take a lot of baby steps through the technology and the culture of these online worlds. As a result, I suspect the millions of people who already are intimately familiar with online games--and who take a second (or third or fourth) online life for granted--might want to know more.
So here, I wanted to call out the many excellent Web sites and blogs dedicated the virtual worlds, in particular Second Life. Although space didn't allow me to acknowledge many of them in print, they offer incredible insights into the business and culture of online worlds that were invaluable in helping me write my story. ...
Here's an all-too-incomplete list of sites to check out:
* New World Notes, an essential blog written by embedded Second Life journalist Wagner James Au.
* The Second Life Herald, a lively blog self-described as "Always Fairly Unbalanced."
* The Metaverse Messenger, "Katt Kongo"'s in-world newspaper chock full of informative stories.
* Terra Nova, a group blog by many of the online gaming community's best minds.
* Virtual Worlds Review, Betsy Book's well-written guide.


I also owe a great debt to several writers who have pioneered coverage of what are now very real places to millions of people: Julian Dibbell, author of My Tiny Life: Crime and Passion in a Virtual World, about his experiences in the classic text-based world LambdaMOO, and also author of the upcoming book Play Money; Edward Castronova, author of the essential book on online games, Synthetic Worlds: The Business and Culture of Online Games; and CNET writer Daniel Terdiman, who seems to cover every significant issue inside Second Life.
And if you happen to find yourself wandering around Second Life, text a "hi" to my avatar, Rob Cranes. (That's him there in the photo on his plot of land.) He's a little shy, but he'd love to hear from you.
Before it's here, it's on the Bloomberg Terminal.
LEARN MORE