U.S.: It's Way Too Early To Count Consumers Out
Rising household wealth and healthy job markets will support spending
The most important question mark in the economy right now is the American consumer. Last year spending by households accounted for 71% of the growth in the economy, and it contributed to another solid showing in the first quarter. Typically, as consumers go, so goes the economy. So will they continue to be the main engine powering economic growth or will they finally start to sputter?
The worries seem real enough: Housing activity and prices are cooling down, suggesting less spending on new sofas, rugs, and dishwashers, as well as less cash for consumers to milk out of their home values. Plus, interest rates are continuing to rise, lifting borrowing costs at a time when personal savings are nonexistent. Now gasoline prices are spiking again, threatening to rob buying power this spring. That's enough to raise a red flag about consumers' staying power, right?
Well, maybe only a yellow flag. One rule that has always paid dividends for economy-watchers in recent years and even during the 2001 recession is: Never sell consumers short. Clearly, the list of challenges facing households in 2006 is growing, and spending this year will be hard-pressed to match last year's 3.5% advance. But at the same time, the resources needed to meet those challenges are also growing.
Perhaps most important, a key difference between now and past business cycles is the increasing role of household wealth, measured as the value of assets minus liabilities. In the past three years, the relationship between income and spending -- historically, one of the tightest in economics -- has weakened considerably, mainly because the net worth of households scored the largest three-year growth on record. To a great extent, wealth gains have supplanted income growth as a key support under spending.
This year, wealth gains will continue to provide a strong foundation. Even as slower growth in home prices reduces the additions to real estate wealth, gains in financial assets will take up much of the slack. At the same time, improving job markets and faster wage growth will be lifting household incomes.
FOR THOSE OBSERVERS wedded to traditional analysis of consumer behavior, the disparate trends in income and spending have set off alarm bells. Consider that, in each of the past three years, real consumer outlays have grown faster than real aftertax income. With households outspending their paychecks, the official measure of the personal savings rate has turned negative. That's because the government measures savings as what's left over from aftertax income after subtracting all outlays.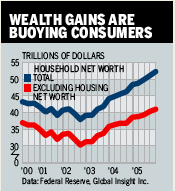 But as the pattern of the past three years shows, a zero savings rate, as traditionally measured, means nothing about the financial condition of households, at a time when consumers are saving from sources other than income, and when they are spending part of their increased wealth. In February, the savings rate was -0.5%, following a -0.4% average for 2005. But last year, household net worth rose by $3.9 trillion. Economic studies generally agree that households tend to spend about 4 cents of every dollar of additional wealth. To put that in perspective, 4% of last year's rise in net worth is equal to nearly 30% of last year's increase in consumer spending.
That's why signs of stress are hard to find. Delinquency rates on a broad range of loans remain low, and despite gasoline prices jumping to a national average of $2.59 per gallon in early April, consumer confidence last month rose to the highest mark in almost four years. And first-quarter consumer spending appears to have grown at an annual rate of around 5%, which would turn out to be the strongest quarterly showing in 2 1/2 years.
THE RECORD INCREASE in household net worth over the past three years, totaling $13 trillion, will continue to boost consumer spending in 2006, and new wealth gains this year will provide additional lift. That's true for two reasons. One, studies show that wealth affects spending with a lag, so increases last year will continue to support outlays this year. And two, the rise in wealth generated by the increased value of financial assets has swamped the increase in equity coming from household real estate. That means, unless the stock market really tanks this year, wealth will most likely continue to rise.
In fact, worries about how the weakening in housing could depress consumer spending this year may well be exaggerated. The popular concern is that weaker housing activity and home prices will prevent consumers from using their homes as ATMs. By some measures, the net equity that homeowners have withdrawn from their home values was equivalent to more than 6% of households' aftertax income in both 2004 and 2005.
However, separate studies by economists at both Barclays Capital and JPMorgan (JPM ) show that the relationship between home-equity withdrawals and consumer spending is highly suspect. Their analyses show that the more important relationship is between wealth and spending. The wealth data suggest that much of the equity taken out of homes has found its way into other financial assets, and much of that remains stored away as retirement savings or in more liquid assets that can quickly be spent.
CLEARLY, OUTLAYS for an array of home-related goods are bound to fall off. But for net worth to suffer a loss big enough to threaten overall spending, home prices would have to collapse broadly, and that seems unlikely.
Housing turns on mortgage rates, the variation in which has accounted for more than 75% of the monthly ups and downs in sales of existing homes over the past 10 years. Based on past patterns, if the yield on 10-year Treasury notes rises to 5.5%, from 4.8% now, 30-year fixed mortgage rates would be in the 7%-7.5% range, up from about 6.5% now. That would add about $65 per month to a mortgage payment for each $100,000 of principle. That's not likely to cause much damage.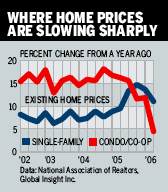 Consider that even if home values do not rise at all this year, and mortgage liabilities continue to grow about 14% per year, then homeowners' equity would fall by about $1.2 trillion. However, if financial assets continue to rise at the 9.6% annual pace of the past three years, or $3.7 trillion, then the overall net worth of households would still increase by some $2.3 trillion. Plus, most homeowners would still have significant untapped capital gains racked up from price appreciation over the past several years.
Home prices are already starting to grow more slowly, but so far the cooling has been the sharpest for new homes and existing condominiums and cooperatives. In the key market for existing homes, which is more crucial to household wealth, prices are still up 11% from a year ago, after peaking at 14.7% in the third quarter of last year.
Prices are bound to slow more in the coming year, as U.S. housing markets come back to reality. But as long as the adjustment is gradual, there will be plenty of new gains in household wealth and income to keep consumers spending at a healthy, if slightly slower, pace.
By James C. Cooper
Before it's here, it's on the Bloomberg Terminal.
LEARN MORE