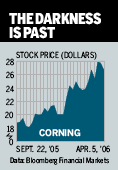 In the late 1990s, when tech and telecom stocks ruled, Corning (GLW ) soared -- from 14 a share in early 1999 to 113 in 2000. But then the fiber-optics market soured, and Corning crashed to 1.10 in late 2002. After three bad years, Corning bounced back by shifting its focus to the liquid-crystal business. It became the world leader of ultrathin glass panels for the liquid-crystal displays used in TVs, notebook computers, and flat-panel desktop monitors. Liquid-crystal sales, now 38% of total revenues, should expand at rates of 40% and 50% in 2006 and 2007, analysts figure, based on the growing demand for larger TV and computer screens. The turnaround kicked the stock up from 12 in 2005 to 27 now. The recovery is impressive -- as are Corning's new wares, including enhanced fiber optics and cable, says Lee Schultheis, CEO of Alpha Hedged Strategies Fund (ALPHX ), which owns shares. By more than doubling in a year, the stock has outrun its peers, notes Schultheis, who sees it reaching 33 in 6 to 12 months. Corning's solid performance, he says, reflects its strong fundamentals. New technologies, such as "green glass" to eliminate toxic chemicals in liquid crystals and a "green laser" to remove impurities from water and fuel cells, will sustain Corning's momentum, Schultheis argues. For the first time since 2000, Corning was in the black in 2005 and has built up a cash stash of $2.4 billion. John Harmon of investment bank Needham recently upped his 2006 sales estimate from $5.6 billion to $5.7 billion and his earnings forecast from $1.10 a share to $1.11. For 2007, he raised his numbers from $6.8 billion to $7.1 billion and from $1.28 to $1.32. These forecasts reflect the improved liquid-crystal market, says Harmon, who rates the stock a "buy."
Note: Unless otherwise noted, neither the sources cited in Inside Wall Street nor their firms hold positions in the stocks under discussion. Similarly, they have no investment banking or other financial relationships with them.
By Gene G. Marcial
Before it's here, it's on the Bloomberg Terminal.
LEARN MORE