At Cornell University, undergraduate business students actually are a part of the College of Agriculture & Life Sciences (CALS). The business program is located in CALS's Department of Applied Economics & Management, because it was formerly focused on agricultural economics. It started evolving into a general business program in the 1950s, but there are still traces of its unique roots, almost 100 years after it was founded. While undergraduate business students at other top universities are finding demand curves and calculating assets their first year, Cornell students are doing all of that plus taking a semester of biology and another semester of physics or chemistry.
"It makes us different, but it's also one of our strengths, because our students approach learning and thinking almost in a scientific way," says Ann LaFave, CALS's director of admissions. As the business world is adapting to new technology, a science background helps Cornell undergraduate business students stand out among the competition.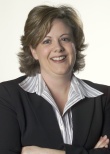 Ann LaFave
Cornell University
Although LaFave has been the director of admissions for only about two years, she has been working in the admissions office for almost nine, first as the assistant director and then as the associate director. She graduated from CALS's education program in 1990, and was an educator for seven years at Cornell Cooperative Extension, a community outreach program. She recently spoke with BusinessWeek intern Helena Oh. Here are edited excerpts of their conversation:
What do you look for in applicants?
One of the things we focus on is analytical ability. They need to be strong in math. Accepted students typically take AP calculus and/or AP statistics their senior year of high school. Students should also have strength in science, because we award a Bachelor's of Science degree. We also look closely at English and writing ability.
Why do business students need to take science classes?
It's a College of Agriculture & Life Sciences requirement. Many of our students are interested in combining business with the sciences by pursuing things like careers in biotechnology.
Typically, how many students apply and get accepted each year?
In 2004, about 640, and in 2005, about 840 students applied to the school. Applications have risen about 25% in the last year. For the entering fall class of 2006, we admitted about 17% of applicants. Our goal is to have a freshman class of 95 students.
Can students apply after freshman year?
We typically take about 40 transfer students every year.
Which test scores are required or recommended?
SAT I or ACT, and we recommend SAT II subject tests. We recommend taking them in math and science.
Is more weight put on the math scores?
We definitely look at the SAT I math score. There's no minimum or cutoff, we're just really looking for strength in that area. Certainly a 700 and above is great, but we have admitted students with lower scores. But it's only one part of what we consider.
How important is GPA?
We don't even track GPA because every high school calculates them differently.
What else does the application entail?
We have a supplement to the Common Application where we get specific. [Students can apply to any of the 277 participating universities with the same Common Application.] Our questions this year ask students to describe their intellectual interests and evolution. Next, we ask students to consider the how they will utilize our business program to explore their academic interests. We're asking them to understand our offerings. If you don't like science, and you want to study business, this may not be the best place for you.
What are your tips for answering the essay question?
Students should really research and understand the particular programs, because we want to know why they want to study here and what they can bring to the table. We're looking for leadership experience and potential.
Are there interviews?
We don't offer interviews. We offer information sessions throughout the summer and fall, and students are welcome to come and visit.
Is the program conducive to double majoring?
Yes, students can major or minor within our college, but there's no official way to do that with another college [within the university].
Before it's here, it's on the Bloomberg Terminal.
LEARN MORE