Business Construction: Picking Up The Slack From Housing
Strong demand has caused many companies to outgrow their facilities, and the unflappable consumer has driven retailers to build more stores. As a result, business construction spending should remain strong as vacancy rates fall and factory utilization rates rise. It's a trend that will help cushion the blow from the coming decline in housing.
In February, private nonresidential construction outlays, which cover hotels to factories, rose 9.6% from a year ago. That was the fastest yearly rise in over five years. The gains have been broad, but outlays for commercial space, offices, and factories account for the majority. The three sectors make up just over half of private nonresidential construction, but accounted for nearly three-quarters of the increase in outlays over the past 12 months.
Signs point to continued strength. Metropolitan office vacancy rates are falling. According to CB Richard Ellis Group, (CBRE ) a commercial real estate services company, the national rate fell to 13.9% in the final quarter of 2005, the lowest in four years.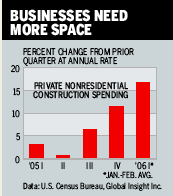 The level of available space is even more scarce for manufacturers, down to 9.7% in the fourth quarter of last year. With business investment expected to remain strong in 2006 and with capacity utilization above its long-term average and expected to keep rising, manufacturers will need to expand existing plants or build new factories.
Indeed, the push to build more offices and stores will help to fuel business investment. In the first two months of the first quarter, production of construction equipment is up by an annualized rate of 18.2% from the previous quarter. What's more, the February level of unfilled orders was up 28.5% from a year earlier, indicating further rises in production.
Increases in nonresidential building activity should also mitigate some of the fallout from reduced homebuilding. Hiring in residential building is slowing. Meanwhile, after three years of trimming workers, payrolls in nonresidential building have steadily risen since mid-2004, up 3.2% in February from a year earlier. As companies need to spend more on building, hiring in business construction should keep improving.
By James Mehring in New York
Before it's here, it's on the Bloomberg Terminal.
LEARN MORE