As demand for manufactured goods has picked up, producers have yet to adjust their inventories accordingly. As a result, the decline in the inventory-to-sales ratio, a measure of the adequacy of stock levels, has accelerated in recent months. The trend is a favorable sign for increased factory activity.
In January overall business inventories were up just 4% from a year ago, the slowest pace in 19 months and far less than the 8.5% rise in shipments during the same period. February inventory levels of durable goods fell by 0.5%. This is a small part of business inventories, accounting for about 22% of the total, but it is an early indication that February inventory growth may be continuing to slow.
The ratio of business inventories to sales is down to a historically low 1.24 months' supply. It is true that this ratio has been drifting lower for years as businesses have taken advantage of better technology to streamline production and supply chains. But since June, 2005, the ratio has been falling faster than the average rate of decline since 2000.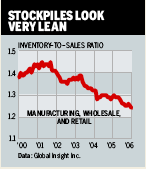 The inventory data are useful because they're "giving you a signal about whether demand is higher or lower than expected," says Goldman Sachs (GS ) economist Andrew Tilton. The recent rundown in the ratio may be a sign that demand is stronger than manufacturers expected. Indeed, the yearly percentage change in the inventory-to-sales ratio is a good leading indicator for the Institute for Supply Management's factory activity index, notes Tilton.
Economists see the ISM's March activity index rising further. Plus, the February factory survey showed that respondents continue to believe customer inventory levels remain too low. The ISM's index tracking inventory levels also show that manufacturers have let inventories decline during the past 11 months.
Manufacturers may also feel the need to bump up production to get inventories to more comfortable levels. While businesses are striving to keep supply chains lean, there is a limit. If inventories become too skimpy, businesses could face costly production disruptions -- or even the possibility of lost sales.
By James Mehring in New York
Before it's here, it's on the Bloomberg Terminal.
LEARN MORE