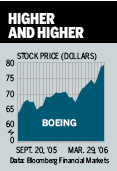 Since diving from 51 in 2003 to a three-year low of 24, Boeing (BA ) (BA) has soared to 78 -- and the smart money says it'll keep going. "It has strong free cash flow, which will continue as it fills 2005 orders," says Standard & Poor's (MHP ) Jim Corridore, who upgraded the stock from "hold," to "buy," with a 12-month target of 85. (Boeing was featured in this column on Feb. 21, 2005, at 54.) Orders this year may not match 2005's, but financial results will be strong, he says. Corridore is upbeat on CEO James McNerney, who, he says, can push up debt-adjusted return on equity to 15%-17% for the next 10 years. Compounded free-cash-flow growth, he estimates, will hit 7.5% to 8.5%. And earnings before interest and taxes, he adds, should rise from 6% to over 8%. Ronald Epstein of Merrill Lynch (MER ), which has done business with Boeing, writes that "better-than-expected demand" globally for the 787 will increase deliveries in 2008 to 450 aircraft from an estimated 425 in 2007 and 405 in 2006. Output, Epstein figures, will stay at that level through 2010. The 787 "is a category killer," he says. Recently, he upped his profit estimate for 2006 from $3.35 a share to $3.40 and for 2007 from $4.20 to $4.30. The figures might be conservative, he adds. Value Line's (VALU ) Morton Siegel notes that the 787, slated to appear in 2008, is already nearly sold out through 2010. A bigger 787 will enter service in 2012. Siegel sees Boeing performing well for years to come.
Note: Unless otherwise noted, neither the sources cited in Inside Wall Street nor their firms hold positions in the stocks under discussion. Similarly, they have no investment banking or other financial relationships with them.
By Gene G. Marcial
Before it's here, it's on the Bloomberg Terminal.
LEARN MORE