U.S.: This Porridge Still Looks A Little Too Warm
Strong demand at home and abroad is heating things up at U.S. factories
Goldilocks lives. The economic scenario, that is. Those who believe in her think the economy this year will be not too hot, not too cold, but just right. Currently, it's the view most widely held by economists, investors, and Wall Street pros. So, the tale goes, after the unusually warm winter heated up the economy in the first quarter, growth will cool down to a pace of about 3% that will relieve any remaining worries about future inflation and interest rate hikes by the Federal Reserve. If so, stock prices will most likely extend this year's rally, and bonds may benefit as well.
But will it really be that simple? Much will depend on market perceptions of how the economy is shaping up in the second quarter. And on that front, the recent pace of improvement in the manufacturing sector will be a key development to watch. Some regional survey results for factory activity in March have looked surprisingly upbeat, suggesting that manufacturing is ending the first quarter with a good bit of momentum. That could be an important sign. The industrial sector began gathering steam late last year, and historically when manufacturing has oomph, so does the overall economy.
The factory sector's thrust also reflects a key pattern that is driving economic growth this year. That is, the greater roles played by capital spending and exports, which are two important engines of factory activity. Through January, inflation-adjusted exports of goods are up 12% from a year ago, and exports of capital goods are up 16%. Through February, production of business equipment has grown 10%, with output in the high-tech sector up nearly 22%. Those growth rates are sharp accelerations from this time last year.
Robust factory activity also may be a sign that overall demand is not cooling. If so, the ability of manufacturers to keep up will continue to be stretched. Output is already outstripping the growth of new production capacity. That's pushing up operating rates and giving companies more leeway to lift prices, a pattern the Fed is keeping a keen eye on. The dollar's surprising strength last year helped keep the prices of goods down, but that may not be the case in the coming year.
WITH THE WEATHER ALSO RUNNING hot and cold in the first quarter, making sense of the economic numbers has been more than the usual challenge. According to the Fed's latest report on industrial production, manufacturing output jumped 0.8% during balmy January, but it managed only a scant 0.1% advance in February as normal temperatures returned. The true strength is probably somewhere in the middle. Monthly gains averaged a sturdy 0.6% during the past six months.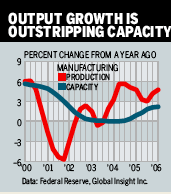 Anecdotal reports of factory activity are unambiguously upbeat. The Federal Reserve's latest roundup of economic conditions in all 12 Fed districts, prepared in advance of the Fed's Mar. 28 policy meeting, showed that manufacturing activity in almost all districts continued to expand during January and February. And in most districts, Fed banks reported that the strong demand was widespread across industries, especially in construction materials, electrical equipment, heavy machinery, defense products, tractor trailers, and heavy trucks. The concentration of strength in those industries clearly illustrates how demand for capital goods is driving factory production.
THAT HEALTHY TREND appears to have continued in March, based on upbeat readings from separate surveys of industrial activity taken by both the New York Federal Reserve Bank and the Philadelphia Fed. Both canvasses showed particularly impressive readings for new orders.
Many businesses are running to catch up with demand, a key reason to expect that manufacturing will keep humming along in the coming months. For example, the ratio of business inventories to sales, a measure of the adequacy of current stock levels, fell sharply in December and January. Even accounting for the downtrend in this ratio in recent years, caused by generally lower holdings of inventories by businesses and the faster rates at which stocks turn over, inventories relative to sales are still well below the typical levels seen since the recession ended four years ago.
Much of the demand flowing to manufacturers is for business equipment, and it's coming from both home and abroad, as growth overseas begins to show more pizzazz. Based on high readings for corporate optimism and plenty of cash to invest, U.S. businesses are set to boost their capital spending in 2006 even faster than last year's 8.7% increase. Numbers on orders and shipments in recent months suggest that outlays for new equipment got off to a booming start in the first quarter.
The most striking evidence of U.S. corporate health shows up in recent data on business-sector balance sheets. Through the fourth quarter of last year, the internal funds available to nonfinancial corporations for investment had exceeded the level of capital expenditures for three quarters in a row. Companies have never before shown that degree of financial flexibility.
ALTHOUGH COMPANIES have been hesitant to expand after the investment bust five years ago, two things are happening right now that are affecting both manufacturing and the economy. One, businesses are rushing to expand their operations in the face of strong demand and insufficient production capacity. And two, because factory output is growing more than twice as fast as new capacity is being added, manufacturing operating rates have risen sharply during the past year.
Through February, factory output in the first quarter was up 4.8% from last year, while capacity grew only 2.3%. Consider that five years ago manufacturers were increasing their capacity at more than twice that rate. In February, factories were using 80.1% of their capacity, a level high enough to suggest that some manufacturers are starting to strain to meet demand. Seven industries in February, representing 18% of factory output, were operating in excess of 85% of capacity.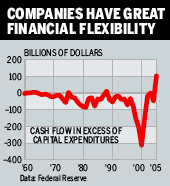 Ultimately, it will be up to the Fed to decide if the economy is cooling down enough to stop raising interest rates. Right now, though, the Fed appears to be as much in the dark as anyone about how the economy is shaping up. On Mar. 20, Fed Chairman Ben S. Bernanke gave Wall Streeters in New York an impressive analysis of why long-term interest rates were unusually low, given the Fed's series of short-term rates hikes. His conclusion: He didn't know why. He said they might be too stimulative, requiring further hikes in short rates, or they might be justified by global conditions, perhaps requiring lower short rates. It was an exercise in being noncommittal worthy of Alan Greenspan.
The only way to know for sure, he said, is to watch the economy and the data. Of course, investors and economists already knew that. In the coming months, they will be checking the temperature of the porridge just as intently as the Fed. But based on the heat coming from manufacturing, it still looks a little on the warm side.
By James C. Cooper
Before it's here, it's on the Bloomberg Terminal.
LEARN MORE