The Greenback's Gain Isn't Likely to Last
February consumer and producer price data paint a seemingly benign outlook for price pressures. One key ingredient in the recent easing in inflation was the surprising uptick in the U.S. dollar last year. But the underpinnings for the stronger dollar are set to fade.
During 2005, the U.S. dollar defied economists' expectations and rallied. The Federal Reserve's trade-weighted index of major currencies rose 8.4% in 2005 with most of the gain coming in the first half of the year. The gains were even larger vs. the yen and euro, with 14.8% and 8.7% jumps, respectively.
The upshot is that "the rise in the dollar against these currencies appears to be translating directly into softer import prices from these regions," says Barclays Capital chief U.S. economist Dean Maki. The yearly overall pace of nonfuel import prices has eased to 0.8%, from 2.7% last February. The slowdown has been even bigger for all goods from the European Union, receding to a pace of 2.9%, from 6.3% last February. Prices of Japanese imports fell 0.9% in the past year.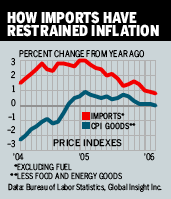 During the same period, consumer goods prices excluding food and energy were flat. That has helped pull down overall core inflation in the face of accelerating service-sector prices, which are now up 2.9%.
However, the relief from last year's higher greenback is unlikely to last. The Federal Reserve has lifted its fed funds rate 350 basis points since June, 2004. The Fed hikes pushed U.S. short-term rates past those in the euro zone and widened the gap against Japan's rates of near 0%. The result was an influx of foreign money, which helped push up the dollar.
Many economists expect the Fed to take a break by midyear. At the same time, the European Central Bank is sounding more hawkish, and the Bank of Japan is ending its ultra-accommodative experiment of quantitative easing.
What's more, global economic activity is expected to accelerate this year even as the U.S. economy settles into a more modest rate of growth. As a result, demand for the U.S. dollar should begin to wane, eliminating the inflation-dampening effects of lower import prices.
By James Mehring in New York
Before it's here, it's on the Bloomberg Terminal.
LEARN MORE