U.S.: Bond Yields Are Up -- And It's About Time, Too
With overseas liquidity diminishing, rates must rise to attract foreign funds
It took a long time, but the bond market finally may be getting religion. Market players are starting to believe that the U.S. economy is stronger than they had thought and that the Federal Reserve will be lifting short-term interest rates by more than they had expected. Now, central bankers overseas are starting to preach a similar message of economic improvement and tighter monetary policy. As a result, bond brethren have sent yields recently to two-year highs. Yields on 10-year Treasury notes have been hovering at or above 4.7% for most of March, up from 4.1% six months ago. That rise is the market equivalent of a loud "amen."
The upward climb in bond yields most likely has farther to go. First, the economy is showing few signs of slowing in a way that will relieve concerns about future inflation. Second, without those signs, the Fed will be unwilling to risk a pause in its rate hikes, especially given the strength of the labor markets in February, which signals robust job growth and a further acceleration in wage increases.
Third, and perhaps most important, global financial conditions are beginning to shift. With the European Central Bank (ECB) raising rates and the Bank of Japan (BOJ) on the road to tighter policy, the days of excess global liquidity are ending. That means less global savings will find its way into U.S. Treasuries, reversing a trend that has helped to keep yields low. And fourth, improving growth and investment prospects abroad will put new downward pressure on the dollar. As a result, foreigners may require higher yields before they are willing to hold U.S. bonds.
THIS CHANGING GLOBAL ENVIRONMENT is the newest element in the bond market outlook. In recent years easy monetary policies in the euro zone, Japan, and China have created an enormous amount of liquidity looking for a place to be invested. The rise of global capital markets has meant that U.S. Treasuries have often soaked up those excess funds, since investment opportunities outside the U.S. have been relatively unattractive. That trend has helped to support the dollar and keep bond yields low.
Now, global liquidity is ever-so-gradually being absorbed by tighter policies abroad. The ECB has hiked its policy rate from a record low of 2% last year to 2.5% on Mar. 2, and economists expect further increases, bringing it to at least 3% before yearend.
Moreover, any further move by China to lift the value of its currency would be a de facto tightening of its monetary policy. On Mar. 15 the yuan posted the largest one-day rise vis-à-vis the dollar since China's revaluation in July of last year. A move that big suggests increasing flexibility on the part of China to allow its currency to fluctuate. Economic pressures clearly favor a move up, as does steady political pressure from both the U.S. and Europe. Indeed, the pace of the yuan's rise appears to have picked up somewhat in the past two months.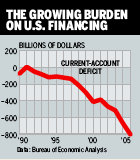 In Japan the BOJ is a long way from hiking interest rates, but it has begun to tighten policy. On Mar. 9 it ended its five-year policy of "quantitative easing." Having already lowered interest rates to zero with no economic response, the BOJ had taken the unconventional step of flooding the banking system with reserves to kick-start lending and the economy and to reverse the process of deflation. With that accomplished, it is now starting to rein in the excess money, and it is expected to begin lifting rates off zero later this year.
THE INVESTMENT PATTERNS of foreigners are likely to change in the coming year, including moves to diversify away from U.S. assets. Last year, for example, net purchases of U.S. Treasuries by foreigners slipped to $281 billion from $380 billion in 2004, according to the tally of international transactions by the Bureau of Economic Analysis. Most of that slippage appears to have been in short-maturity instruments, but last year was the first since 2000 that inflows to Treasuries were less than in the prior year. Any further shift in investment flows could have big implications for both the bond market and the dollar, given America's mammoth financing needs.
Those needs are illustrated by last quarter's current account deficit, the broadest gauge of U.S. international transactions. The gap, composed mainly of the trade deficit, increased to a record $224.9 billion in the fourth quarter, equivalent to 7% of gross domestic product. For the full year the deficit swelled by $136.8 billion to $804.9 billion, or 6.4% of GDP. That means the U.S. had to attract some $67 billion every month in foreign capital to fund the deficit. Economists expect the financing needs to grow further in 2006.
The U.S. will continue to attract the foreign financing it needs. The question is: At what dollar and interest rate levels? It's the dollar that will equilibrate the financing needs of the U.S. with the willingness of foreigners to supply them. The dollar will most likely decline further, as competition for global funds increases.
FOR NOW, THE BIGGEST FACTOR in the bond market's prospects is the strength of the economy. With the first-quarter growth surprise playing out as expected, bond players will breathe a sigh of relief only if they see concrete signs that the economy is cooling in the second quarter. So far, that's no sure bet. The only clear indications of softer growth are in housing, but other sectors have solid supports for future growth.
On Mar. 14 bonds took heart from February's 1.3% drop in retail sales from January, as the 10-year yield fell sharply. But the sales decline was hardly a sign of weakness. It followed January's 2.9% surge, the result of that month's record warm temperatures, which generated some buying that might normally have occurred in February. Taken together, so as to even out the weather effects, sales averaged 0.8% per month, well above the 0.5% average gain during all of 2005.
Both consumer buying and capital spending by businesses have strong underpinnings. February payrolls rose by 243,000, with gains in the first two months of 2006 averaging 207,000, a speedup from the 167,000 average in the second half of 2005. Plus, household net worth posted a sizable gain in the fourth quarter, according to the Fed's latest data. Company balance sheets look even more impressive.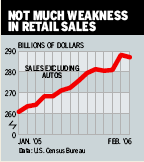 Foreign demand is another support, as economies overseas pick up. Exports through January grew at the fastest four-month clip in more than 11 years. Both exports and imports posted big gains in January, resulting in a record trade deficit, but the data imply that demand, both at home and abroad, is growing strongly.
All this threatens to complicate the Fed's job of simultaneously keeping the economy growing while keeping inflation under control. To a great extent, the mix of strong growth in the U.S. and easy monetary policy abroad partly explains why bond yields have remained unusually low even in the face of enormous U.S. financing needs. That paradox may well take a long time to unwind, depending on how fast overseas economies regain traction. But the process appears to have begun.
By James C. Cooper
Before it's here, it's on the Bloomberg Terminal.
LEARN MORE