Cortex Draws A Bead On Hyperactivity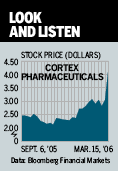 One condition Wall Street pays heed to is attention deficit hyperactivity disorder (ADHD), which affects 4 million children and 3 million adults in the U.S. When Cortex Pharmaceuticals (COR ) disclosed on Mar. 8 that its lead drug, CX717, showed favorable results in Phase 2 trials for the treatment of adult ADHD, the stock jumped from 3.30 to 4. Cortex says further tests are needed to confirm the early results. Elemer Piros, an analyst at investment outfit Rodman & Renshaw, says Cortex expects to sign a big drugmaker as a partner for CX717, "which has blockbuster potential." Piros says CX717 may be at par with Eli Lilly's (LLY ) ADHD drug, Strattera, with 2005 sales of $552 million. He rates Cortex "outperform-speculative risk," and has upped his target from 8 to 12. Robert Van Roijen of Tox Financial, which owns 1 million shares, says CX717 is also being tested for schizophrenia and memory loss. He puts potential sales in the billions.
Note: Unless otherwise noted, neither the sources cited in Inside Wall Street nor their firms hold positions in the stocks under discussion. Similarly, they have no investment banking or other financial relationships with them.
By Gene G. Marcial
Before it's here, it's on the Bloomberg Terminal.
LEARN MORE