Will Buyers Call Up Time Warner Telecom?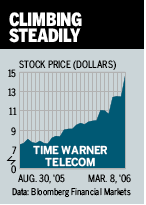 Even before news broke of an AT&T (T )-Bell South (BLS ) deal, shares of Time Warner Telecom (TWTC ) had been winging up, from around 4 a year ago to more than 14.60 now. The reason: Some see it as prey as the telecom industry consolidates. "Not only is TWTC steadily gaining enterprise business, but it is also attracting attention for its takeover appeal," says Donna Jaegers of Janco Partners, who owns shares. Time Warner (TWX ) took TWTC public in 1999, retaining a 44% stake. TWTC has a fiber network connecting 6,000 buildings in 44 U.S. cities, with more than 20,000 route miles. It is profiting from the growth in demand for bandwidth, says Jaegers, mostly from corporate customers. Jaegers rates TWTC a "buy" based on the company's internal growth outlook. She assigns a buyout value of $2.6 billion, or 22 a share, at 11 times its estimated 2007 earnings before interest, tax, depreciation, and amortization of $312 million. Its No. 1 customer, AT&T, accounts for 8% of revenues. No. 2 is Cingular Wireless, pulling in 4.5%. Among big stockholders is Advance/Newhouse Communications, with a 13% stake. TWTC says it's focusing on expanding its business.
Note: Unless otherwise noted, neither the sources cited in Inside Wall Street nor their firms hold positions in the stocks under discussion. Similarly, they have no investment banking or other financial relationships with them.
By Gene G. Marcial
Before it's here, it's on the Bloomberg Terminal.
LEARN MORE