Exports: Can't Ship 'Em Out Fast Enough
Resilient global economic growth has the manufacturing sector on an upswing in the U.S. and in most parts of the world. As a result, idle factory capacity is getting gobbled up. That's good news for the U.S. industrial sector as higher global investment spending should spur further gains in capital goods exports.
According to calculations by BusinessWeek, global capacity utilization in manufacturing is back up to levels last seen in late 2000. The index of global capacity utilization includes the U.S., Germany, Japan, and 31 other countries -- but not China or India -- that combine to account for nearly 79% of global economic output.
Strong demand has pushed up capacity utilization rates such that nearly three-quarters of the countries are above their long-run average. And early first-quarter numbers from the U.S. and around Europe show the upward trend remains intact.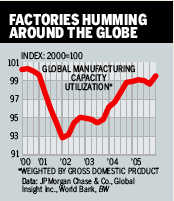 As spare capacity steadily evaporates and expectations rise that global economic growth in 2006 will outpace last year, companies are likely to ramp up investment spending. In Canada, for example, a government survey shows outlays for plants and equipment are expected to rise by 8.2% this year, vs. 7.6% in 2005.
A resurgence in global capital spending is particularly good news for American manufacturers. Non-auto capital goods account for 40% of all U.S. exports. There are indications that factories are already beginning to see an acceleration in demand. Exports of capital goods rose 13% from a year ago in the final quarter of 2005, and the Institute for Supply Management's February factory activity report showed continued strength in export orders.
Increases in investment spending by companies at home and abroad should also push U.S. manufacturers to pump up their capital outlays as unused capacity declines. The U.S. capacity utilization rate in the factory sector in early 2006 already exceeds its long-run average of 79.8%. Plus, rising demand should allow manufacturers to maintain the pricing power they were able to obtain in the wake of last year's soaring energy prices.
By James Mehring in New York
Before it's here, it's on the Bloomberg Terminal.
LEARN MORE