U.S.: Now It's Business That's Stoking The Boiler
Capital spending and hiring are driving growth. Will they drive up inflation?
By now, everyone knows that first-quarter economic growth is going to be a ripsnorter. Many analysts already have pushed up their forecasts north of 5%. But what's getting lost in all the attention to this quarter's growth surprise is mounting evidence that a central theme of most forecasts for 2006 is playing out right on schedule: Business is taking on a bigger role in driving overall growth. That means, despite the emerging housing slowdown, businesses are taking up some of the slack, as they shell out for new equipment and buildings, more inventories, and additional workers.
After more than four years of steady growth since the 2001 recession ended, the economy has reached a sweet spot. Businesses are increasingly confident about future demand both at home and from abroad, and their optimism is generating new demand and income throughout the economy. It's a classic virtuous cycle that's hard to break, except perhaps by a major shock that causes businesses to pull back sharply.
Throughout this decade, companies have tiptoed through one uncertainty after another that kept them cautious and conservative. Now, two things are happening. Businesses have increasing faith in the future, and their past caution has created the need to expand in order to meet demand. Even after last year's newest turbulence, when oil prices surged anew in the first half -- before the hurricanes sent oil spiraling even higher in the second half -- companies appear to have developed a steely resolve to keep growing, simply because they must.
Up to last year, businesses tried to satisfy demand with existing facilities and workers, but they have taken short-term gains in productivity as far as they can. The determination to keep growing has been fortified by strong growth in profits, record cash flow, solid balance sheets, exceptionally low debt, and easy borrowing conditions in both the credit and equity markets. Those are solid supports for overall economic growth this year.
THE NEW ATTITUDE AT COMPANIES shows up in two recent surveys of business executives and in the latest economic data. The Business Roundtable says optimism in the boardroom is high. The CEO Economic Outlook Index, a measure of executive expectations for sales, capital spending, and hiring over the next six months, rebounded sharply in the fourth quarter and gained a bit more ground in the first quarter, according to the 125 company chiefs in the Roundtable's survey. Most CEOs expect strong sales and remain optimistic about capital spending, and employment expectations are the strongest since the the survey began in 2002.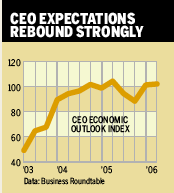 Another canvass, this time a fourth-quarter survey of 135 chief financial officers and managing directors at U.S.-based companies by PricewaterhouseCoopers, showed solid increases in company projections for the coming year for expected revenue growth, new investments, and hiring compared with the third quarter. Those results were also a big rebound from the third-quarter expectations, which were depressed by the uncertainties, disruptions, and higher energy costs resulting from the hurricanes.
In all, PWC says 70% were optimistic about economic prospects over the next 12 months, a 20-point bounce-back from the third-quarter reading. The survey shows that concerns persist, especially for energy-sensitive businesses. But even among those who saw rising energy prices as a potential barrier to their company's growth in the coming year, 66% were optimistic, up 22 points from the third quarter. "What we're seeing is a major quarter-to-quarter turnaround by leaders of large U.S. businesses," says PWC Vice-Chairman John O'Connor.
HARD DATA SUPPORT these upbeat attitudes. As widely expected, the Bureau of Economic Analysis revised its initial estimate of fourth-quarter economic growth upward to a 1.6% annual rate from the 1.1% pace originally reported. Part of that refiguring included sizable upward revisions to growth in business investment in both new equipment, from 3.5% to 6.2%, and new buildings, from 0.7% to 3.3%.
Both of those sectors are set to post considerably stronger results this quarter, based on the trends in orders and output for capital goods and outlays for business construction. January orders for capital goods, excluding the monthly gyrations caused by the military and commercial aircraft, stood far above their fourth-quarter level. Further strong output gains are on the way, as orders continued to outpace shipments, pushing the January backlog of unfilled orders to a record level.
Production of business equipment also started the year well above the previous quarter, and factory activity more broadly picked up in February, says the Institute for Supply Management. The ISM's Purchasing Managers' Index rose to 56.7% last month, from 54.8% in January, as new orders, production, and employment showed improved momentum.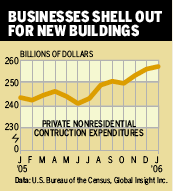 New construction is gaining as well. One often-overlooked factor in the outlook is that new building by businesses is starting to accelerate just as housing construction is beginning to slow. In January, sales of both new and existing homes fell, but construction spending by businesses posted another strong advance, and the growth pace has picked up sharply since last June.
SOME OF THAT PICKUP includes post-Katrina rebuilding, but more importantly it reflects businesses' need to expand in the face of pressure on existing facilities and labor. For example, plant utilization rates in manufacturing have risen to levels close to those seen in 1999-2000, as output has accelerated while production capacity continues to grow only modestly.
For some companies it's a game of catch-up investment. Following the tech-led investment bust five years ago and the subsequent corporate caution, capital spending as a share of GDP remains unusually low at this advanced stage of recovery, and depreciation rates relative to capital expenditures remain unusually high. Businesses have not been replacing older equipment at the rate you might expect, given the economy's strength.
New investment in the coming year will be especially critical for companies to stay competitive, both in the U.S. and globally. So far, businesses have managed their costs well, even in the face of $60-per-barrel oil. The PWC survey shows that, by and large, gross profit margins actually improved through the end of last year. However, one strategy for coping with higher costs is not the method inflation-phobes at the Federal Reserve would like to see. PWC says companies are getting a little more help from increased pricing power.
So renewed business optimism may be both a blessing and a curse. New capital spending and hiring will ease concerns that a housing slowdown could weaken the economy. But with labor markets and operating rates already tight, the need for more workers and production capacity could generate new pressures on inflation.
By James C. Cooper
Before it's here, it's on the Bloomberg Terminal.
LEARN MORE