Zonagen Is Feeling Its Oats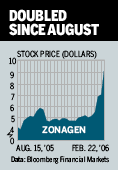 Investors buying into tiny Zonagen (ZONA ), whose shares have more than doubled since August, to 9.25, include some big players. As of December, 2005, UBS (UBS ) had a 10% stake, and Efficacy Capital, which invests mainly in biotechs, owned 9.9%. Zonagen's chief product, Androxal, is a one-a-day oral tablet for testosterone deficiency caused by a condition called hypogonadism. Early results of a study of 13 men showed that Androxal has the potential of restoring normal testosterone levels. CEO Joseph Podolski says a 200-patient Phase 3 clinical trial will be held later this year. Matthew Kaplan of Punk Ziegel, an investment firm, rates the stock a "buy, with a 12-month target of 14. "We're impressed with Androxal's efficacy," and an oral pill "is a clear advantage over the topically applied AndroGel," he says. Low testosterone afflicts 6.3 million men aged 50 to 80 in the U.S., he notes. Reduced sex hormone levels adversely affect muscle and fat mass, libido, mood, and cardiovascular health. Kaplan sees Androxal taking 4% of the U.S. market by 2010. Efficacy Capital's Mark Lappe says Zonagen remains "extremely undervalued," as it "addresses a $1 billion market." It's likely [that] the likes of Pfizer (FPE ) or Wyeth (WYE ) will buy Zonagen," he says. Another product, Proellex, for uterine fibroids in women, goes into Phase 3 trials this year.
Note: Unless otherwise noted, neither the sources cited in Inside Wall Street nor their firms hold positions in the stocks under discussion. Similarly, they have no investment banking or other financial relationships with them.
By Gene G. Marcial
Before it's here, it's on the Bloomberg Terminal.
LEARN MORE