U.S.: It's Not Just Warm Weather Heating Up The Economy
Strong job markets, good profits, and easy credit are powering growth
Given the roller-coaster ride the economic data have been on in recent months, it's a good time to stand back and take a broader view of where the economy is heading. Since last summer, overall economic growth has swung wildly, from a 4.1% annual rate in the third quarter to 1.1% in the fourth quarter, and analysts now expect a first-quarter pace of 5% or more. The newest complication is January's record warmth and its impact on the data, especially outsize gains in housing starts and retail sales. That makes it even more difficult to discern how much of this quarter's upswing reflects the economy's true momentum and how much is due to weird weather.
For example, January's 2.3% surge in retail sales from December will have a powerful impact on first-quarter consumer spending, which will, in turn, make an unusually large contribution to this quarter's growth in real gross domestic product. Even if consumer spending does not rise any further in February and March, real outlays would increase at an annual rate of about 6%. Given that consumer spending is about two-thirds of GDP, that's a four-percentage-point contribution to GDP growth by itself.
Clearly, consumers aren't capable of sustaining spending at January's clip, and housing activity is giving every sign of cooling off, not accelerating. January's unusually warm weather boosted other economic data for the month as well, and some of the impacts appear to have been substantial. Consequently, many of the numbers on activity in February and March will most likely look far less robust or perhaps even downright weak.
However, looking through the ups and downs, it's important to keep in mind that even before January, demand by consumers, businesses, and foreigners was looking strong heading into the first quarter. The bottom line: Weather is a factor in the first quarter's strength, but it's not the only one.
START WITH CONSUMER SPENDING: It's strongly supported by improving job markets, low interest rates compared with historical levels, and previous gains in wealth that still buoy spending even as traditional measures of household savings look ominously low.
Looking past January, new claims for unemployment insurance through mid-February remain very low, and the level argues for a strong gain in February payrolls to be reported on Mar. 10. New claims during the four weeks through Feb. 18 averaged below 300,000 per week. In the past, claims that low have been consistent with monthly payroll increases of more than 250,000 jobs.
Job markets have already tightened to the point where wages are starting to increase faster, and consumer prices for energy, while up in January, are still down 5.6% from last September, restoring some buying power. Indeed, weekly surveys of retail activity through the first two weeks of February show that spending is holding up well.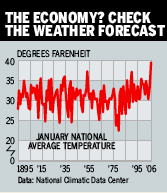 Corporate spending is also solid, as seen in the upward trends through December in orders and shipments for capital goods and in the strong gains in production of business equipment through January. Hiring goes hand in hand with expansion plans, and that pattern will most likely continue in 2006, powered by solid balance sheets, easy credit conditions at banks and in the financial markets, and strong profits.
LAST QUARTER WAS ANOTHER strong showing for corporate earnings. Looking at profits of the 85% of companies in the Standard & Poor's 500 (MHP )-stock index that have reported through Feb. 17, combined with the current earnings expectations of the remaining 15%, analysts at Thomson Financial say fourth-quarter profits are up 14.4% from a year ago. That's the 10th consecutive quarter of double-digit earnings growth, a feat that has occurred only two other times since 1950. Even excluding the windfall gains in the energy sector, earnings were still up 8.8% in a quarter when revenues were depressed by the aftereffects of the hurricanes.
Earnings are sure to slow this year, as they typically do while a business upswing ages. But earnings growth in the high single digits should be easy to achieve. With demand strong, investors will look for top-line revenue growth to drive the bottom line. The tax break on earnings repatriated from operations overseas brought in a gusher of cash in the second half of last year. Plus, businesses have a little more pricing power, so any squeeze on margins should not be severe.
An indication of that pricing power showed up in the January report on producer prices. Overall prices of finished goods rose 0.3% from December, but core prices, which exclude energy and food, were up 0.4%, the largest advance in a year. That could be an early sign that strong demand is allowing businesses to pass along higher energy costs to customers, but so far there is little evidence of that at the retail level. Consumer prices rose 0.7% in January, lifted by energy costs, but core prices were up a tame 0.2%.
FOR NOW, HOUSING is the economy's only sector showing clear signs of cooling. Fourth-quarter sales of both new and existing homes fell below their third-quarter levels. However, the sharpest decline has been sales of existing homes, especially single-family houses, which dropped 4.6% from the third quarter, the largest quarterly decline in 11 years. That weakness is continuing in the first quarter, as indicated by the downturn in mortgage applications to buy a home. So far this year, applications are running 5.9% below their fourth-quarter average, which was 5.4% below the third quarter.
However, it is sales and starts of new homes that are crucial to building activity, and that is what has a direct impact on economic growth. Demand, while down a bit from last year's peak, remains high. But judging by the recent sag in builders' optimism and the rise in mortgage rates, both sales and starts of new homes will most likely head lower in coming months.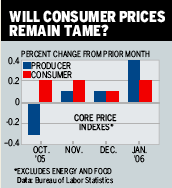 Historically, those two indicators closely track sales and starts of new single-family homes. Right now, fixed 30-year mortgage rates are up to 6.28% in mid-February from a low of 5.53% last June. Also, the National Association of Home Builders' housing market index, a composite of builders' assessments of current and future sales conditions, fell to 57 from a peak of 72 last June. Based on past patterns, those levels of rates and builder sentiment have corresponded with sales at an annual rate of about 1 million units and starts at a rate of about 1.4 million. Last year, sales and starts averaged 1.28 million and 1.72 million, respectively.
For the rest of the year, housing is sure to play a key role in how much the economy slows from what may well be an exaggerated first-quarter performance. But barring a sudden retrenchment by businesses that would sharply curtail capital spending and hiring, or an unexpected surge in interest rates that would hammer housing, the solid supports under consumer and business demand will help to keep the economy on a solid growth path.
By James C. Cooper
Before it's here, it's on the Bloomberg Terminal.
LEARN MORE